---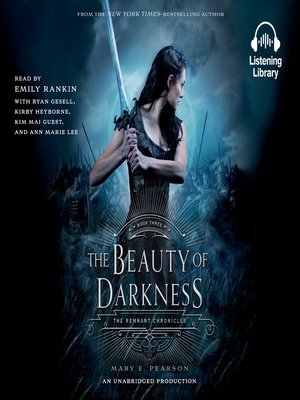 Beauty of Darkness
The Remnant Chronicles #3
Author:
Mary E. Pearson
Narrator: Emily Rankin
Reading Level: Young Adult
Genre: Fantasy
Released: August 2 2016
Review Source: Listening Library, Penguin Random House Audio
Lia and Rafe have escaped Venda and the path before them is winding and dangerous - what will happen now? This third and final book in The Remnant Chronicles is not to be missed.

Bestselling author Mary E. Pearson's combination of intrigue, suspense, romance and action make this a riveting page turner for teens.
Lia and Rafe have escaped the Vendans, but this doesn't mean that the path that lay ahead is an easy one. Kaden has lost his trust in Lia, but he still needs to be the one to find her.
I'm going to do this review as spoiler free as possible. So instead I might just throw in some awesome gifs to explain how I'm feeling about certain things.
I'm going to start off with a simple fact - this is the last book in the series. This always brings with it a sense of dread. Once you've invested yourself into a story so fully you don't want to see it go away. This was me with The Remnant Chronicles. I have loved this series since I picked it up. And I haven't wanted to see it come to an end, while I've always wanted to have the book within my hands. So it was a bittersweet moment when I was finally able to listen to this beautiful story.
This was the first time I've ever actually listened to a book as well. I mean I've had my kindle read to me sometimes - but the book was always there for me to follow along with. This time it was just the audiobook. And honestly I loved it. I feel like listening to an audiobook makes things a little bit more vivid for listeners. I had never realized this, but having someone else talk and you just listen - it allows your mind to create a more vibrant world. And with Pearson's writing it teleports you into this amazing world.
Pearson's writing makes you wish with all your heart that you were Lia. I am partial to Rafe, so I'm always wanting to be close to him - so maybe I would want to be Sven or one of his colleagues. But her writing then also makes you feel as though you are a bystander, right in the middle of all the action, therefore you are a part of the story. And to feel as though you're a part of someone's writing is one of my favorite feelings in the whole world.
The ending was just:
I'll let you figure out what I mean by these gifs.