For Review (physical copies):
Purchased:
---
Current Giveaways: (Click pictures to go to giveaway post):
Posted by

Leydy @ OUaT
at 12:00 AM
0 comments

---
A Very Grey Christmas
Kissing Eden # 3
Author: T.A. Foster
Reading Level: Adult
Genre: Contemporary Romance
Released: November 4th 2014
I was getting ready to spend the single most important holiday of the year alone. Completely and utterly alone.

That meant he wouldn't be there Christmas Eve. No making Christmas cookies, or listening to my dad sing off-key while my mom bustled around wrapping last-minute gifts. No decorating the tree. No midnight Christmas kiss.

No waking up in Grey's arms. We were actually going to spend our very first Christmas in different states.

That was until Grey gave me the most unexpected gift of my life.
When I started writing A Very Grey Christmas it was August. Who wants to think about Christmas trees and snow in August, right? Well, my solution for getting in the holiday spirit and setting the romance scene I needed was in this playlist. I love Michael Bluble's holiday CDs and there are some other great classics on here such as Ella Fitzgerald's Baby It's Cold Outside. Yes, you can laugh at my 98 Degrees addition, but I promise there is romance in them. One song of theirs may have even inspired one of the scenes in the novella.
I hope you enjoy the music, and they help add a little cheer to your holiday spirit.
---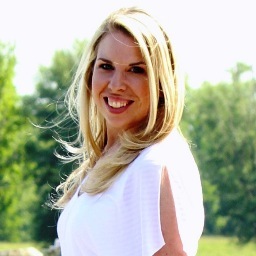 T.A. Foster once spent a monthlong spring break on South Padre Island, where she soaked in the Texas sun, beach, and learned what real Texas country music is. Sometimes fiction does spring from reality.
She grew up catching rays and chasing waves along the North Carolina Outer Banks and now resides in the state with her adventurous pilot husband, two children, and two canine kiddos.
T.A. has an undergraduate degree in Journalism and Mass Communication from the University of North Carolina at Chapel Hill and a graduate degree in Educational Psychology from Texas A&M University. When she's not chasing her two-legged and four-legged children or trying to escape for date night, you can find her reading, writing, or planning her next beach trip.
Posted by

Leydy @ OUaT
at 5:00 AM
0 comments

---
Suspicion
Author:
Alexandra Monir
Reading Level: Young Adult
Genre: Mystery
Released: December 9th 2014
Review Source: Delacorte Press | Goldberg McDuffie
"Take The Princess Diaries and add magic, murder and mystery, and you've got SUSPICION. A delightful read!"—Amy Plum, author of the of the international bestselling Die For Me series

"If Alfred Hitchcock had directed Downton Abbey, the result would have been this book. Alexandra Monir takes us on a gripping, nonstop thrill ride with just the right amount of supernatural and an ending that you definitely won't suspect. I devoured it in one sitting."—Jessica Brody, bestselling author of the Unremembered trilogy

Mysterious. Magnificent. Creepy. Welcome to Rockford Manor.

"There's something hidden in the Maze." Seventeen-year-old Imogen has never forgotten the last words her father said to her seven years ago, before the blazing fire that consumed him, her mother, and the gardens of her family's English country manor.

Haunted by her parents' deaths, Imogen moves to New York City with her new guardians. But when a letter arrives with the news of her cousin's untimely death, revealing that Imogen is now the only heir left to run the estate, she returns to England and warily accepts her role as duchess.

All is not as it seems at Rockford, and Imogen quickly learns that dark secrets lurk behind the mansion's aristocratic exterior, hinting that the spate of deaths in her family were no accident. And at the center of the mystery is Imogen herself--and Sebastian, the childhood friend she has secretly loved for years. Just what has Imogen walked into?

Combining a fresh twist on the classic REBECCA with a spine-tingling mystery and powerful romance, SUSPICION is an action-packed thrill ride.
At a young age, Imogen faced a terrible tragedy. While visiting her cousin at the Rockford residence, a terrible tragedy occurred. The Rockford was supposed to be a magical place for Imogen but now it is a place that hunts her. Imogen lost her parent to a horrible fire accident on the grounds of this place.

Now left as an orphan, Imogen lives overseas. To protect her from the nightmares, Imogen's guardian keeps secrets from her. But as she turns 18, her past comes knocking at the door. Imogen discovers that the remaining members of her family are now dead. To make things worse, she is next in line to become the Duchess of Rockford. And she is appointed to return to the land she was born. The land of myths, the land of all of her fears. Though warned not to returned, Imogen decides to take the challenge and tries to uncover the truth of her past.

Honestly, I had high hopes for this novel. Though the writing was appealing, I have to confess the more I read, the more I became disappointed. I liked the first 40% of story - it was very The Princess Diary-ish like. Yet the story lacks romance and mystery, it wasn't thrilling. As I turned the pages, I kept hoping something magical would happen…it never did.

Overall, Suspicion's pace was good, the writing was pretty but the story itself was… dull. It had potentials but it fell short of the mark.
Posted by

Leydy @ OUaT
at 1:00 AM
0 comments