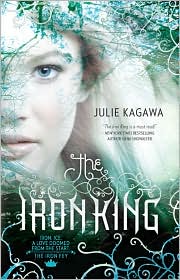 The Iron King
(Iron Fey Book 1)
Author: Julie Kagawa
Pages: 368 pgs
Reading Level: YA
Published: February 1st 2010
Review
Source
: NetGalley
Available: Amazon / Barnes & Noble / Borders
Summary: (from goodreads) Meghan Chase has a secret destiny; one she could never have imagined. Something has always felt slightly off in Meghan's life, ever since her father disappeared before her eyes when she was six. She has never quite fit in at school or at home.
When a dark stranger begins watching her from afar, and her prankster best friend becomes strangely protective of her, Meghan senses that everything she's known is about to change.
But she could never have guessed the truth - that she is the daughter of a mythical faery king and is a pawn in a deadly war. Now Meghan will learn just how far she'll go to save someone she cares about, to stop a mysterious evil no faery creature dare face; and to find love with a young prince who might rather see her dead than let her touch his icy heart.
I was excited to read this book, since my friends recommended it to me. I actually had the second book in the series and didn't realized it was book 2 until I went to read it. So of course I bought Iron King. I'm so glad i actually did listen to my friends, this book was GREAT. I like the way Kagawa writes, its very easy to understand even when its a word I have no idea how its pronounced. We follow Meghan Chase thru her journey starting on her 16th birthday. Its starts off pretty bad since no one at school likes her and then her younger brother is kidnapped by Faeries and whats left in his place is horrible. She has her best friend Robbie that's always been around her since she can remember, well now she knows why. Robbie is part of the Fey himself. So they start there journey to go into the Faery realm and look for her brother. They must figure out what court has her brother and why they did this. I wont give more of the story away, I will say Read it if you have not yet. She makes the story so believable.
I have started now the 2nd book Iron daughter, so very soon I will have the review up. Also Kagawa has written a Novella called Winters Passage that's takes place in between Iron King and Iron daughter. It will be available for download June 1st.