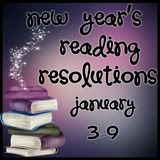 So here at Once Upon a Twilight we will be doing 3 giveaways. The giveaway hop will run from January 3rd until January 9th at midnight. The winners will be announced on the 10th.
List of giveaways:
YA Book Prize includes (US Only):
The Vampire Diaries: Stefan's Diaries Vol. 1- Orgins by L.J. Smith

Crank by Ellen Hopkins
Adult Book Prize includes (US Only):
Blood Trinity by Sherrilyn Kenyon and Dianna Love

The Host by Stephenie Meyer
A Book from the Book Depository $10 or less that ships to your country.
Note: If you would like to enter the book packages and live outside the US and are willing to cover your shipping cost then you may enter either giveaway. The amount will be figured out if you are the winner when giveaway has ended.
Fill out the FORM

Must comment below and tell us your New Year's Resolution for 2011

Enter the correct Giveaway (unless you will cover shipping)
Here is the Linky List for you all to find all the blogs easily.