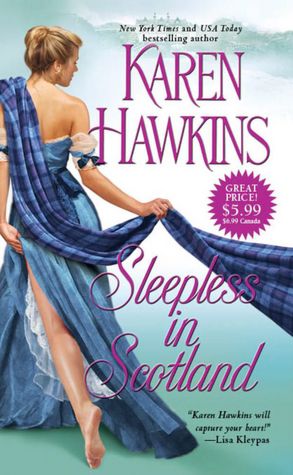 Sleepless in Scotland
MacLean Curse #4
Author:
Karen Hawkins
Reading Level: Adult
Genre: Historical Romance
Released: July 9th 2009
Review Source: Purchased
Available:
Amazon
Summary: (from goodreads) The fourth and fifth exciting novels in "New York Times "bestselling author Karen Hawkins's sparkling Scottish Regency series about two beautiful twin sisters who find romance with the sexy MacLean brothers.

In "Sleepless in Scotland," Catriona Hurst learns that her sister Caitlyn is getting into trouble in her societal debut, and she rushes to London to rescue her bolder, younger twin. Discovering that Caitlyn has planned to force Laird Alexander MacLean into marrying her by stowing away in his coach, Triond sneaks inside MacLean's coach to dissuade her sister. But Triond gets trapped inside when the coach takes off--and it's not Alex MacLean who discovers her, but his brother Hugh. Distracted by the heat that burns fiercely between them, he doesn't realize that he's gotten the wrong sister until it's too late...
In this story we get the adventures of Hugh, one of the brother from the MacLean clan. He is the only one of the brothers that actually can control the curse, but there is a price to be paid for that. He finds out that there is a plan to ensnare his brother Alexander into a proposal of marriage by one of the Hurst's sisters, Caitlyn. She came up with a plan that was to put her and Alexander in a compromising position to extract the proposal from him, but once Hugh learns of the trick he comes up with a plan to trick her. Little did he know that Caitriona, Caitlyn's twin sister, would travel to stop her sister's crazy plan. Their combine effort to save the siblings backfire, and they become the ones in the compromising situation where the only solution is marriage to save her reputation. Not wanting a part of this but having no other alternative, they come up with the plan to go their separate ways after some time of being married and get back to their normal life. Needless to say, their plan again burst in their faces, when strong feeling get in the way, and his secret no longer mattered.
I am a biased reader, love the series and the fact that there is always something new to learn about each of the brothers MacLean and the Hurst sisters, can't wait to read the one with Alexander's adventures.