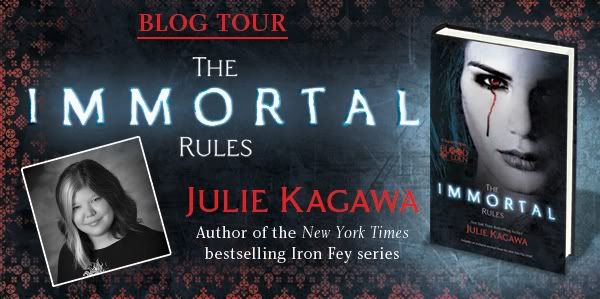 Stop #11 - THE Immortal Rules - these are the actual rules for being a vampire
1. You must feed on human blood. To go without will drive you mad and force you into a frenzied killing state.
2. You must relinquish your human past and any loyalties you held as a mortal. Former friends and family will see you only as a monster now.
3. You can be killed by beheading, fire, or exposure to direct sunlight. A wooden stake through the heart, while it will not destroy you permanently, will immobilize you and force you into hibernation.
4. You will heal from most other injuries, but your body will draw upon its own reserves to do so, and you must feed to replenish them soon after.
Please visit http://allthingsurbanfantasy.blogspot.com/ for the next stop on The Immortal Rules blog tour.
About The Immortal Rules (Harlequin Teen; April 24, 2012; $18.99):





Buy the Book:

Amazon

/

Barnes & Noble

/

Harlequin

/

Indiebound You will kill. The only question is when.

In the dark days since the insidious Red Lung virus decimated the human population, vampires have risen to rule the crumbling cities and suburbs. Uncontested Princes hold sway over diminished ranks of humans: their "pets." In exchange for their labor, loyalty and of course, their blood, these pets are registered, given food and shelter, permitted to survive.

Unregistered humans cling to the fringe, scavenging for survival. Allison Sekemoto and her fellow Unregistereds are hunted, not only by vampires, but by rabids, the unholy result of Red Lung-infected vampires feeding on unwary humans. One night, Allie is attacked by a pack of rabids, saved by an unlikely hero...and turned vampire.

Uncomfortable in her undead skin, Allie falls in with a ragtag crew of humans seeking a cure, or cures: for Rabidism and for Vampirism. She's passing for human...for now. But the hunger is growing and will not be denied. Not for friendship—not even for love.
About New York Times Best-Selling Author Julie Kagawa:
To pay the rent, Julie worked in different bookstores over the years, but discovered the managers frowned upon her reading the books she was supposed to be shelving. So she turned to her other passion: training animals. She worked as a professional dog trainer for several years, dodging Chihuahua bites and overly enthusiastic Labradors, until her first book sold and she stopped training to write full-time. Her third novel, The Iron Queen, became a New York Times bestseller and her debut novel, The Iron King recently won the RITA award for best young-adult fiction novel of 2010.
Julie now lives in La Grange, Kentucky, with her husband, two obnoxious cats, one Australian shepherd who is too smart for his own good and the latest addition, a hyperactive papillon.
You can follow the full blog tour for The Immortal Rules by
CLICKING HERE
. Visiting the schedule, you will also see a chance to enter for the grand prize a Kindle touch with a one-of-a-kind Immortal Rules case cover.
Don't miss Julie while on tour. She will be visiting: Saturday, April 28th at 2pm - The Bookstore, Radcliff, KY / Monday, May 7th at 5:30 pm - Lincoln's Loft, Hodgeville, KY.
Now here at Once Upon a Twilight thanks to Harlequin Teen we have one SIGNED copy of The Immortal Rules to give out to one of our followers. Read below to enter.
a Rafflecopter giveaway