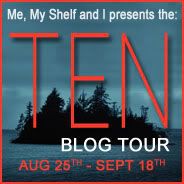 Welcome to the next stop on the Ten Blog Tour for Gretchen McNeil. The tour is hosted by Me, My Shelf and I blog. The blog tour runs from August 25th - September 18th. Today's stop is a review of Ten.
Author Bio:
Singer ~ Writer ~ Clown
I write. Scary stuff, mostly. My YA horror/paranormal POSSESS debuted with Balzer and Bray for HarperCollins in 2011. My second novel, TEN – YA horror/suspense about ten teens trapped on an island with a serial killer – will be released September 18, 2012, also from Balzer and Bray.
I'm a former coloratura soprano, the voice of Mary on G4's Code Monkeys and I currently sing with the LA-based circus troupe Cirque Berzerk. I'm a founding member of vlog group theYARebels where I can be seen as "Monday" and an active member of both The Enchanted Inkpot, a group blog of YA and middle grade fantasy writers, and The Apocalypsies, a group blog of 2012 children's book debuts.
---
Ten
Author: Gretchen McNeil
Reading Level: YA
Genre: Horror/Mystery/Thriller
Release Date: September 18th 2012
Review Source: Balzer + Bray
Available:
Amazon
Summary: (from goodreads) And their doom comes swiftly.



It was supposed to be the weekend of their lives—an exclusive house party on Henry Island. Best friends Meg and Minnie each have their reasons for being there (which involve T.J., the school's most eligible bachelor) and look forward to three glorious days of boys, booze and fun-filled luxury.

But what they expect is definitely not what they get, and what starts out as fun turns dark and twisted after the discovery of a DVD with a sinister message: Vengeance is mine.

Suddenly people are dying, and with a storm raging, the teens are cut off from the outside world. No electricity, no phones, no internet, and a ferry that isn't scheduled to return for two days. As the deaths become more violent and the teens turn on each other, can Meg find the killer before more people die? Or is the killer closer to her than she could ever imagine?
Yes this gets 5 trees that should stand for Outfreaklingstanding! Its no surprise either that it would be that awesome. Gretchen captured my interest in her writing when I read Possess by her last year and she has just seal the deal and can count on me as a long time reader of her work now. Ten is Gretchen's MO, she writes horror/mystery/suspense/thriller like no one else does. Forget biting your nails while reading, you are checking your doors and locking all windows and hiding under covers when you have one of Gretchen's books in your hands. Gretchen can give horror films a run for their money.
First I'm going to give you TEN reason why this book is Badass:
The suspense level is out of this world
The scenery of where it takes place is perfect
The characters do DIE
Its Bloody
Believe it or not, it has some LOL moments
The story is VIVID
You wont be able to predict the ending
One swoon-worthy guy
Excellent cover
Gretchen McNeil wrote it!!!
Ten is the story of 10 teens headed off to a party on Henry Island for 3 days. Meg is the main protagonist we follow along, she has her best friend with her when they jump on the ferry to head to this island. At this party they know will be T.J., the swoon-worthy hottie from school. Meg has been crazy for him, but has kept it under wraps since Minnie her BFF likes him too. No one knows that these teens are going to spend 3 days all alone. So when they all finally get there and see everyone staying the weekend, its a really random group of people. Not everyone even goes to the same school. Well that doesn't stop the party from starting, which includes a DVD they find that says play me. Hmm not sure about you but I personally would not have touched that DVD. The tape gets played and the message is: "Vengeance IS MINE" and well if this doesn't scare the crap out of you then you might be crazy. The countdown has begun! One by one the teens start to die pretty horrifically. There is no way off the island and a really bad storm has knock power and communications off. Who will survive this weekend? Is the killer amongst them or someone lurking on the island?
When you pick up a copy of TEN, grab a really comfy blanket, a really bright light and your detective hat and immerse yourself in this thriller. I recommend it to everyone, even if horror isn't your thing. Enjoy!!!