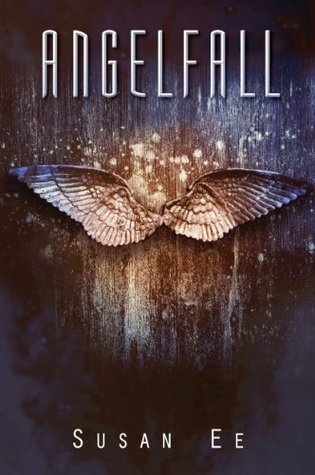 Angelfall
Penryn & the End of Days #1
Author:
Susan Ee
Reading Level: Young Adult
Genre: Post-Apocalptic | Angels | Paranormal
Released: August 28th 2012
Review Source: Amazon Children's Publishing
Summary: (from goodreads) It's been six weeks since angels of the apocalypse descended to demolish the modern world. Street gangs rule the day while fear and superstition rule the night. When warrior angels fly away with a helpless little girl, her seventeen-year-old sister Penryn will do anything to get her back.



Anything, including making a deal with an enemy angel.

Raffe is a warrior who lies broken and wingless on the street. After eons of fighting his own battles, he finds himself being rescued from a desperate situation by a half-starved teenage girl.

Traveling through a dark and twisted Northern California, they have only each other to rely on for survival. Together, they journey toward the angels' stronghold in San Francisco where she'll risk everything to rescue her sister and he'll put himself at the mercy of his greatest enemies for the chance to be made whole again.
Stories or Authors like Susan Ee are the reason I am a book lover and blogger. Angelfall is everything and more. The story and world building is insane. It kept me guessing and holding my breath because of the amount of intensity. I finished Angelfall weeks ago and I still talk about it everyday to someone new. It the book that stays with you long after you read it.
Angelfall is the the new apocalypse, forget zombies or aliens ending the world, Its the Angels! They have taken to ruin and dominate the human, the human don't really even know why. The main protagonist in Angelfall is Penryn, we meet her when she is hiding out from gangs and Angels trying to just survive one second at a time with her sister in tow. Then come upon some kind of fight between Angels and Penryn's sister gets taken by the intimidating Angel that just cut the wings off another Angel. Penryn is just left holding her sister's wheelchair. This is why we are different, because even though Penryn just lost her sister, doesn't have a clue what the angels will do to her or where they are taking her, she still decides to help the angel that has just had his wings cutoff. Penryn even holds on to the butchered wings. All this happen within the first few pages of Angelfall. This is just a tiny sample of how much intensity is written into these pages. So much takes place with Penryn and the Angel she has saved. Raffe is her enemy yet she saved him. What happens when Raffe regains conscience, will he kill the one human that saved him even though they are enemies?
I don't want to give away anymore. Trust me when I say you will enjoy every second of this book. Then when you think you know what is about to happen, BAM, you are wrong. I immediately connected withe story and the characters. I will admit I have a soft spot for Raffe. This series is one to watch and definitely READ!