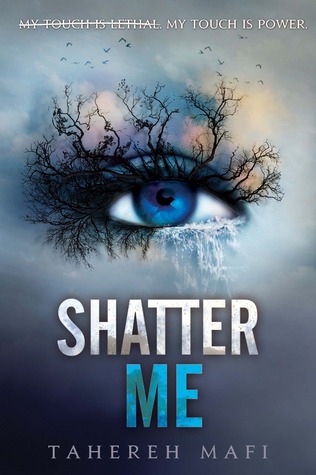 The Author of Shatter Me,
Tahereh Mafi
announce on twitter who she would cast for the movie yesterday. Shatter Me was optioned by 20th Century Fox before the release of the book back in 2011. Fox-based Chernin Entertainment will produce the film.
Synopsis: Shatter Me follows the narrative of Juliette Ferrars, a young teen who has been incarcerated for a murder caused by her fatal touch. While in prison, Juliette is given a new cellmate by the name of Adam Kent. Juliette develops a wary, uncertain friendship with Adam, not knowing that he was sent to Juliette's cell with the mission of spying on her for Warner, the son of the leader of The Reestablishment. But when The Reestablishment arrives to collect Juliette in hopes of utilizing her as a weapon, Adam's true motives are revealed, and the reader learns that he'd known (and recognized) Juliette from childhood. Adam ends up falling in love with Juliette and together they escape to join the resistance.
So Tahereh tweeted that she would pick Justin Bieber to play all the roles. If you have not met Tahereh or followed her twitter before, then I would advise that you do. Tahereh is one of the funniest authors I have met.
Original Tweet:
Tahereh Mafi:
"ideal fancast for SHATTER ME: Justin Bieber plays all the roles, a la Eddie Murphy in The Nutty Professor"
If this were to happen, Shatter Me would go from being a thrilling love story to a comedy.
Speaking of fancast, fans of Shatter Me have been sharing since the movie was optioned who they would cast as their ideal Adam, Warner or Juliette. Here are some actors mentioned:
Adam:
Garrett Hedlund (Tron: Legacy, Country Strong, Friday Night Lights)
Logan Lerman (Percy Jackson & the Olympians: The Lightning Thief)
Zac Efron (The Lucky One, 17 Again, Charlie St. Cloud)
Juliette:
So what do you all think of these fancast choices?
•I can't remeber who I saw as Juliette for the first time but I would say Danielle Campbell or Alexandra Daddario would be great !
I picture Chace Crawford as Adam and DAMN Jake Abel is perrrrrrfect for Warner, when I see him I see Jake ♥ - Ava

•In all honesty, I think Saoirse Ronan or Kaya Scodelario will be a good Juliette. Ronan because of her role in Hana and Scodelario looks good in The Maze Runner. The issue of hair color is not a problem since the actress can dye her hair brown. That's what I think though. - Elle Dee

•Whenever i read, it plays as a movie in my head. I saw Willa Holland as Juliette, Jeremy Irvine as Adam, and Chris Zylka as Warner. - endlesslyreading

•Alex Pettyfer is the perfect Warner!! Xavier is a close second.
Jeremy Irvine or Colton Hayes for Adam hehe
Kaya Scodelario or Willa Holland for Juliette! - BoolLoverxoxo

•Hunter Parrish, Xavier Samuels : Warner
Kaya Scodelario, Daveigh Chase : Juliette
Joshua Anthony Brand, Micheal Fjordman : Adam
Morgan Freeman : Castle
For me :3 - Lunaa