Welcome to our stop on ASPEN tour for Rebekah Crane. This tour is hosted by
Jen Halligan PR.
---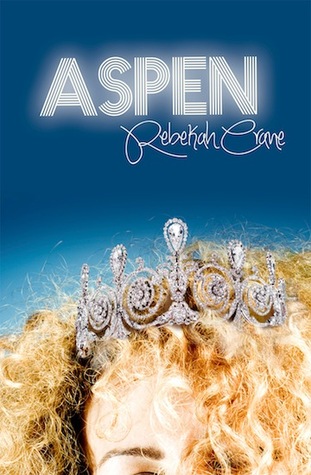 Aspen
Author: Rebekah Crane
Reading Level: Young Adult
Genre: Contemporary
Released: June 5th 2014
Review Source: Blog Tour
One quiet night in Boulder, Colorado, Aspen Yellow-Sunrise Taylor made a mistake.

In the next instant, her life changed forever.

Aspen doesn't want to remember the car accident that killed Katelyn Ryan, a sleek-haired popular soccer player. But forgetting is hard-- because Katelyn may have died -- but she didn't leave. Her ghost is following Aspen around, and heading into senior year, it's kind of a problem. Especially when Katelyn's former boyfriend Ben appears to be the only person at school with a clue as to how Aspen feels.

Popularity, Homecoming Court, hot guys - none of these things ever mattered to Aspen. She's been busy trying to keep her stoner mother Ninny in line and out of unemployment. But with Ben sitting next to her in Physics and her therapist begging her to remember all the things she wants to forget, Aspen is thrust into a vivid, challenging world she can't control ... and doesn't want to.

A darkly funny, emotionally gripping story of opening up, letting go, and moving on, Aspen is about the best-worst accident of your life ... and what comes next.
I really loved reading this book about a senior named Aspen. She has out of control hair that is really curly. She hates it. She has a mother that thinks she still lives in the hippie days. Her mother is always having a new guy every other month and loves to smoke pot. Apen said throughout the whole book that she always calls the men in her mothers life as Uncle. Aspen is just a normal teenager that goes to high school and has friends that love her very much. Until one night Aspen screwed up. She ends up getting into a car accident and when she does she ends up killing the popular girl in the high school. But since Katelyn the popular girl that died won't leave Aspen alone until she tells people the truth how Katelyn died. Aspen always thought it was her fault until she starts hanging out with Katelyn boyfriend which is her gorgeous lab partner. Plus Katelyn friends have been hanging out with Aspen. She can't believe some of the stuff she finds out about Katelyn. Katelyn wasn't that special girl that everybody thought. She was a unhapy girl. Throughout this book you will learn so much about each character.
After reading this book you look at your life and think you have the worse life ever. But that one person that you jealous about in high school thinking they have a great life. They might not. You can't judge somebody until you walk a day in their shoes and see the real truth. This book is a really good book for kids in high school. You will learn a lot of lessons about life that you think isn't important.
---
Rebekah Crane fell in love with YA literature while studying Secondary English Education at Ohio University. After having two kids, living in six different cities, and finally settling down in the foothills of her beloved Rocky Mountains, her first novel, PLAYING NICE, was published. ASPEN, her second YA novel, set in Boulder, CO, is due to release in summer 2014 from In This Together Media. She now spends her day carpooling kids or tucked behind a laptop at 7,500 ft high in the Rockies, where the altitude only enhances the experience.
---
Monday, July 7th - Girls in the Stacks
Tuesday, July 8th - Dear Teen Me
Wednesday, July 9th - Teen Readers' Diary
Friday, July 11th - Stuck in Books
Monday, July 14th - GReads!
Wednesday, July 16th - A Book and a Latte
Friday, July 18th - The Quirky Reader
Monday, July 21st - About to Read
Wednesday, July 23rd - Once Upon a Twilight
Friday, July 25th - Imaginative Minds