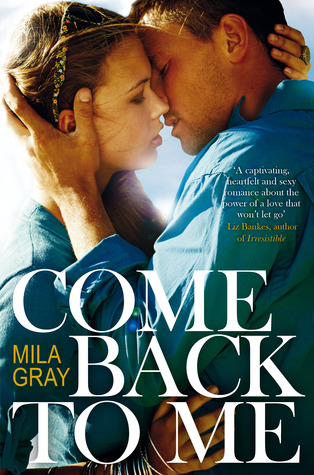 Come Back to Me
Author:
Mila Gray
Reading Level: New Adult
Genre: Contemporary Romance
Released: June 19th 2014
Review Source: Purchased
Home on leave in sunny California, Marine and local lothario Kit Ryan finds himself dangerously drawn to his best friend's sister, Jessa - the one girl he can't have.

But Kit's not about to let a few obstacles stand in his way and soon Jessa's falling for his irresistible charms.

What starts out as a summer romance of secret hook-ups and magical first times quickly develops into a passionate love affair that turns both their worlds upside down.

When summer's over and it's time for Kit to redeploy, neither Kit nor Jessa are ready to say goodbye. Jessa's finally following her dreams and Kit's discovered there's someone he'd sacrifice everything for.

Jessa's prepared to wait for Kit no matter what. But when something more than distance and time rips them apart they're forced to decide whether what they have is really worth fighting for.

A breathtaking, scorchingly hot story about love, friendship, family and finding your way back from the edge of heartbreak.
This book may be unsuitable for people under 17 years of age due to its use of sexual content, drug and alcohol use, and/or violence.
Being a huge fan of Sarah Alderson (otherwise known as Mila Gray), I knew before I started the book that I was setting myself up for a huge shock and/or something unexpected and potentially heartbreaking. The author never fails.

The prologue made my cry...that speaks for itself. Having emotion so strong that early in the novel, with no connection to any of the characters because of the lack of prior knowledge, it's impressive. It's a first for me. Never have I cried a mere few pages into a book before. If that doesn't show the good signs of the author's writing then I don't know what will. It was gripping. After reading the prologue, there was almost an urgency to read the rest of the book just to know the outcome.

Come Back to Me is the tale of forbidden romance. Marine Kit Ryan is on leave and is yearning after a girl he shouldn't want… his best friend's little sister. Neither can deny their feelings for each other, even go as far as sneaking around so her brother and father don't find out, but they make each moment count. Kit is only home for a few weeks before going out on another twelve month deployment so they cherish each moment and make them precious.

The feels...I'm speechless. This book took me on a journey. I got a lot more than I expected and I don't know what to say. Everything about this book felt real. The situations, the emotions, I felt like I was right there with Kit and Jessa. Come Back to Me made me cry a total of 3 times, all separately. Either because I emotionally invest too easy in books or this book just hit all the right buttons--I'll let you decide. And although it was a brother's best friend type, there was never a moment in my mind where this felt like an overdone plot. It was original. It was fantastic. The author knew exactly how to pull the readers in and keep them in a choke hold.

Come Back to Me has a special place in my heart, the book is going to stay with me for a while. It had a perfect ending but it was bittersweet for me. I'd love another installment, maybe just a novella, just to take a peek at the characters and see how they're doing down the line because I'm not ready to let go just yet.