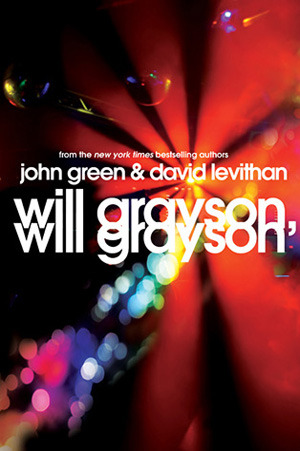 Will Grayson, Will Grayson
Authors:
John Green
&
David Levithan
Reading Level: Young Adult
Genre: Contemporary | Gay | Love | Humor
Released: April 6th 2009
Review Source: Purchased
One cold night, in a most unlikely corner of Chicago, Will Grayson crosses paths with . . . Will Grayson. Two teens with the same name, running in two very different circles, suddenly find their lives going in new and unexpected directions, and culminating in epic turns-of-heart and the most fabulous musical ever to grace the high school stage. Told in alternating voices from two YA superstars, this collaborative novel features a double helping of the heart and humor that have won them both legions of fans.
Will Grayson: best friends with Tiny, who's not so tiny, and keeps to himself and Will Grayson: suffering with depression and incurably insecure. Will Grayson and Will Grayson meet each other at Frenchy's, an "adult book store" in Chicago. It is unlikely, but ever so amazing. Once Will Grayson (Tiny's best friend), meets Will Grayson (insecure), his two rules consisting of shutting up and not caring too much are shattered.
Each chapter of this book switched points of view from John Green's Will Grayson and John Levithan's Will Grayson (Ch.1- Green, Ch.2- Levithan, etc.). That's something I find quite tiring, but once I had read Will's point of view, I just wanted to know what the other Will was thinking, too.
It's a book that will actually make you chuckle out loud. It has heartbreaking and heart melting moments, all placed beautifully. There's even a musical! Such a fun read.