Today we are sharing some exciting bookish news that will excite any fan of Joy Preble and Gayle Forman. Happy Reading!
---
Joy Preble share the cover to her upcoming Young Adult release, Finding Paris:
Finding Paris
Author: Joy Preble
Release Date: April 21st 2015
Publisher: Balzer and Bray
A page-turning, evocative novel for fans of THIRTEEN REASONS WHY and SPEAK, about a girl who must follow a trail of mysterious clues to discover what happened to her sister.

Sisters Leo and Paris Hollings have only ever had each other to rely on. They can't trust their mother, who hops from city to city and from guy to guy, or their gambler stepfather, who's moved them all to Las Vegas. It's just the two of them: Paris, who's always been the dreamer, and Leo, who has a real future in mind—going to Stanford, becoming a doctor, falling in love.

But Leo isn't going anywhere yet… until Paris ditches her at the Heartbreak Hotel Diner, where moments before they had been talking with physics student Max Sullivan. Outside, Leo finds a cryptic note from Paris—a clue. Is it some kind of game? Where is Paris, and why has she disappeared?

When Leo reluctantly accepts Max's offer of help, the two find themselves following a string of clues through Vegas and beyond. But the search for the truth is a not a straight line. And neither is the path to secrets Leo and Max hold tightly.
---
Fans of Gayle Forman (like Once Upon a Twiligh's team), read the revealed excerpt of I Was Here!!!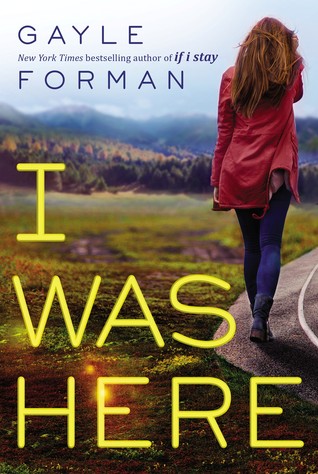 I Was Here
Author: Gayle Forman
Release Date: January 27th 2015
Publisher: Viking Juvenile
Cody and Meg were inseparable.
Two peas in a pod.
Until . . . they weren't anymore.

When her best friend Meg drinks a bottle of industrial-strength cleaner alone in a motel room, Cody is understandably shocked and devastated. She and Meg shared everything—so how was there no warning? But when Cody travels to Meg's college town to pack up the belongings left behind, she discovers that there's a lot that Meg never told her. About her old roommates, the sort of people Cody never would have met in her dead-end small town in Washington. About Ben McAllister, the boy with a guitar and a sneer, who broke Meg's heart. And about an encrypted computer file that Cody can't open—until she does, and suddenly everything Cody thought she knew about her best friend's death gets thrown into question.

I Was Here is Gayle Forman at her finest, a taut, emotional, and ultimately redemptive story about redefining the meaning of family and finding a way to move forward even in the face of unspeakable loss.