Welcome to our stop on The Silence of Six tour for E.C. Myers. This tour is hosted by Deb Shapiro & Company.
---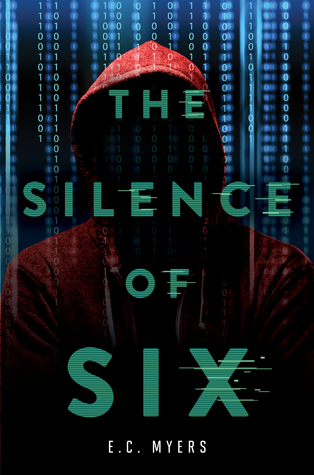 The Silence of Six
Author: Six by E.C. Myers
Reading Level: Young Adult
Genre: Mystery
Released: November 5th 2014
Review Source: Adaptive Books
"What is the silence of six, and what are you going to do about it?"

These are the last words uttered by 17-year-old Max Stein's best friend, Evan: Just moments after hacking into the live-streaming Presidential debate at their high school, he kills himself.

Haunted by the image of Evan's death, Max's entire world turns upside down as he suddenly finds himself the target of a corporate-government witch-hunt. Fearing for his life and fighting to prove his own innocence, Max goes on the run with no one to trust and too many unanswered questions.

Max must dust off his own hacking skills and maneuver the dangerous labyrinth of underground hacktivist networks, ever-shifting alliances, and virtual identities — all while hoping to find the truth behind the "Silence of Six" before it's too late.
Computer hacking - check.
Mystery - check.
Teenage boy hacking into a live presidential debate to make the audience aware of the silence of six then later shoot himself - wait. What?
Did this get your attention?
If not, there are many reasons why you should read this book. Not only does The Silence of Six compels you to read further into this mystery, but it is full of details of how and why it is important to stay safe in this ever evolving online industry. The government and hackers are looking for easy access to your online data entries and if you do not keep your documents protected… Trust me, one can learn everything about you with just one click. What is the creepiest thing about this is… someone can even be watching you via your webcam.
The Silence of Six is creepy and engrossing. In search of the truth, we follow Max's steps to discovering Evan's message. He wants justice for the death of his friend. And while he runs away from the feds, we learn some of the ways a hacker can obtain information. All I am saying is, take notes. Learn from an expert.
Truly a well informed science-fiction novel, this page-turner is one you do not want to miss.
---
E(ugene).C. Myers is the author of the Andre Norton Award–winning Fair Coin and Quantum Coin, young adult science fiction novels published by Pyr, and The Silence of Six, a young adult thriller forthcoming from Adaptive Books.
He was assembled in the U.S. from Korean and German parts and raised by a single mother and a public library in Yonkers, New York, where he survived an improbable number of life-threatening experiences—most miraculously, high school—with ample scars as proof.
He graduated from Columbia University with a bachelor's degree in Visual Arts, which was no use at all in his subsequent job as a technical writer but looks pretty nice on the wall. After a year in software development on Wall Street, he began a career in cable television and helped deliver quality women's programming for nine-and-a-half years. He now uses his powers for good—as a development writer for a children's hospital.
His science fiction and fantasy short stories have been published in a number of magazines and anthologies such as Sybil's Garage, Andromeda Spaceways Inflight Magazine, Sporty Spec: Games of the Fantastic, and Touched by Wonder: A Symphony of Fantastic Tales. His romantic short story featuring horny zombies, "In the Closet", received an Honorable Mention in The Year's Best Fantasy and Horror 2008; his nostalgic short story about horny cavemen, "My Father's Eyes", also got an Honorable Mention in The Best Horror of the Year: Volume 3; and he was a finalist in L. Ron Hubbard's Writers of the Future Contest.
Sitting in a DeLorean
He attended the Clarion West Writers Workshop in 2005 and is a member of the professional writing group Altered Fluid. He currently lives with his wife, two doofy cats, and a mild-mannered dog in Philadelphia. In his increasingly scarce free time, he blogs Star Trek Re-watch reviews with Torie Atkinson at TheViewscreen.com, reads slush for Nightmare Magazine, co-moderates the GothamLit Yahoo group and Twitter account, critiques manuscripts, reads constantly, lurks on the internet, plays video games, and pursues other extracurricular activities that prevent him from getting sleep.