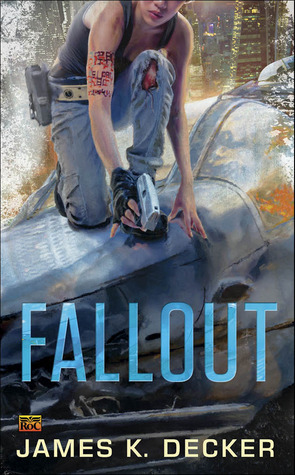 Fallout
Haan #2
Author:
James K. Decker
Reading Level: Adult
Genre: Science Fiction | Fantasy
Released: February 4th 2014
Review Source: Purchased
Overpopulation, disease, and ecological disaster were edging humanity toward extinction. Hope arrived in the haan, an alien race that promised us a future.

And what they wanted in exchange seemed so harmless...

Sam Shao has found out too much about the haan, by accident. All humans have to get along with them—we owe them our lives—and Sam even counts a haan among her best friends. But the more she learns, the less she trusts them



It doesn't help that the building of new haan colonies seems to be coinciding with a rash of missing persons cases. Sam and her hacker friends are determined to reveal the truth about the haan, before it's too late. The aliens are still promising salvation, and they seem set to deliver, but with things already spinning out of control Sam is confronted with a possibility no one wants to admit—that what salvation means to humankind and what it means to the haan may be two horribly different things.
Note: The book was read in english but reviewed in Spanish.
El libro fue leído en Inglés , pero revisado en español
A decir verdad nunca me había sentido atraída por leer un libro de ciencia ficción siempre que me llegaba algún libro de este género a las manos los apilaba en una sección de mi librero y mas nunca los volvía a tocar—con este fue distinto— porque fue mi primer libro que ganaba en un concurso o giveaway y por ello gano un valor especial. Tenía mis dudas al principio, no sabía si sería capaz de leerlo pero la portada ayudo a que lo hiciera—no juzgue al libro por su portada pero influyo, sin dudas—.
El autor usa los primeros capítulos para mostrar el inicio del plan de acción que tiene Sam para poder mostrar la verdad sobre los haan, mostrando de apoco las relaciones entre los personajes y presentando un pequeño romance entre Sam y Vamp. Todo el libro es narrado desde la perspectiva de Sam, dándonos la posibilidad de llegar a pensar y sentir como ella. Todos los personajes presentan características muy propias y muy marcadas, no sabes si amarlos u odiarlos (me pasaba todo el tiempo) lo que lo hace más interesante… teniendo en común sus ganas de contar una verdad de la que solo unos pocos saben y que cambia el rumbo de las cosas.
Definitivamente Decker sabe cómo jugar con nuestras emociones, generando expectativas entre cada página que pasas. ¡Nunca sabes que va a ocurrir! ¡NUNCA!
Si eres amante a la ciencia ficción con algo de fantasía te encantara. Es entretenido, muy. Y estoy segurísima que si lo lees lo vas a disfrutar. Vale la pena leerlo.