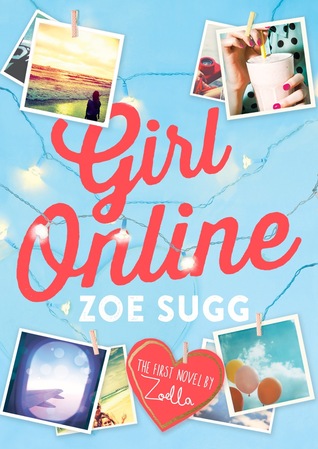 Girl Online
Girl Online #1
Author: Zoe Sugg, Siobhan Curham
Reading Level: Young Adult
Genre: Contemporary
Released: November 25th 2014
Review Source: Atria
I had no idea GirlOnline would take off the way it has - I can't believe I now have 5432 followers, thanks so much! - and the thought of opening up to you all about this is terrifying, but here goes...

Penny has a secret.

Under the alias GirlOnline, she blogs about school dramas, boys, her mad, whirlwind family - and the panic attacks she's suffered from lately. When things go from bad to worse, her family whisks her away to New York, where she meets the gorgeous, guitar-strumming Noah. Suddenly Penny is falling in love - and capturing every moment of it on her blog.

But Noah has a secret too. One that threatens to ruin Penny's cover - and her closest friendship - forever.
Funny how life turns out to be.
When Yara shared this book to all of us and I saw the cover of Girl Online, it immedately reminded me so much of a banner I created years ago. With the exact colors and all. I can't help it, I love pretty covers! I asked her to send it to me without knowing anything about the book nor the author.
When I received the book, I was still awe with the cover. I opened the book and started reading. I must say, the story is very predictable from the start. Like I told the girls, you know when you watch a romance movie and you already know what will happen but you still watch it? This is what happened with this book. I pretty much had it figured it out but I still kept reading because I have to admit:
This book is funny and entertaining.
I really liked Penny.
I wanted to switch places with Penny.
As I kept reading, I slowly felt in love. Yeah sure, the plot may apply to many books, but the fact is, the story is worth reading. I couldn't put it down. I shared a couple of laughs, tears and heartfelt moments.
It all begins with you.
Penny is one of those girls people tend to ignore in school. She is socially awkward but the truth is, she is covering how wonderful she is. She is as clumsy as it can get. But as clumsy she is, she has such an amazing heart. She suffers from panic attacks and she tries to hide it. She wants to feel normal. As much as she tries, real life just keeps throwing her lemons. Then, her awesome best friend recommends her to write down her feelings and about her panic attacks... With this, she comes up with the idea of blogging.
Who knew sharing your feelings online would be helpful? Penny's anonymous online life was having such a positive turn out. Her followers' comments were genuine and Penny started to learn how to control her panic attacks. She started to gain self-confident with their help. Yet, when she shared some information about a boy she met while visiting New York, she also learns that no matter what, bullies are everywhere. Her posts were turned and twisted, and a scandal was created. But like JK Rowling said, "Happiness can be found even in darkest of times, if one remembers to turn on the light". No matter what, Penny remember that little light of hope and this help her cope with the craziness. It was incredible to see her change for the best. She finally learned to take charge of her life.
Life is what you make of it.
HOLY-WOW! I'm extremely surprised how much I loved Girl Online. To say the least, I did not know who this Zoe person is. Little did I know she is an actual "influential YouTube vlogger". After I finished reading the book, I seriously looked up her name up and started following her on her blog and subscribing to her channel. I guess I've been stuck in the TWILIGHT zone. Which by the way is the only thing I did not like about this book. Who in their right mind wants to kill Edward Cullen??? Seriously, guys are so freaking jealous of him (you would have to read to understand). Aside from that, I loved it. It was saddening to see how people can make such negative comments about her using her vlogger fame to be published. I have to say, we all would be doing the same in her shoes.
I honestly think people should give Girl Online a chance. I was REALLY surprised how much I enjoyed this story. It's a romance story but most of all it is a heartfelt coming-of-age novel. I highly recommend Girl Online to everyone.
And Zoe -
you go girl
! I'm a new fan!