Welcome to our stop on I Remember You tour for Cathleen Davitt Bell. This tour is hosted by
The Fantastic Flying Book Club
.
---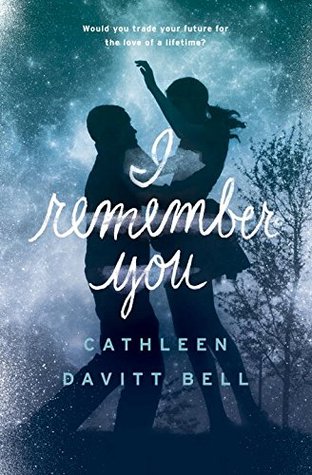 I Remember You
Author: Cathleen Davitt Bell
Reading Level: Young Adult
Genre: Romance
Released: February 10 2015
Review Source: Knopf Books for Young Readers
For fans of THE FUTURE OF US comes an engrossing story of two teens, whose love for each other is tested by time and fate.

Lucas and Juliet couldn't be more different from each other. But from the moment Lucas sees Juliet, he swears he remembers their first kiss. Their first dance. Their first fight. He even knows what's going to happen between them—not because he can predict the future, but because he claims to have already lived it.

Juliet doesn't know whether to be afraid for herself or for Lucas. As Lucas's memories occur more frequently, they also grow more ominous. All Juliet wants is to keep Lucas safe with her. But how do you hold on to someone you love in the present when they've begun slipping away from you in the future?
Juliet is a normal teenager; study's hard, hangs out with her mother, hangs out with her best friend Rosemary, everything is how she would want it to be. Until Lucas starts paying attention to her. Lucas, a hockey player jock type of senior in high school with plans to become a marine. When Lucas approaches Juliet telling her that he knows of their future and that he wants to be with her as often as he can she's unsure whether she should believe him or not, but gets wrapped up in that intense kind of young love which might lead to the real thing. As things start to spiral out of her control she's unsure what to do, will Lucas be able to change their future-or is he leading them right to their destiny?
I'm always wary going into a romance, especially young adult romance. Mainly because it's so rare for the young adult romances to stand out and be different from every other young adult romance that has been written. I am a sucker for the young adult romance, but I get tired of reading the same story over and over. Well-I was not prepared for this. It isn't like any other romance, I mean sure boy meets girl, girl and boy fall in love. But within this story there is an element of science fiction. Boy came back from his future without girl to try and keep the girl, can we believe him? Not sure! He has symptoms of a brain tumor, but you so desperately want to believe Lucas. As things unfold you come up with so many different theories for what is happening with Lucas and Juliet, but even what happens isn't really what you are expecting.
This book from the start sets you up for heartbreak, talking of Lucas as if he isn't in Juliet's life anymore. Throughout the whole book though I just was hoping that my thoughts were wrong, that maybe an older version of Juliet was reminiscing about her life with the love of her life. I do appreciate what happens which is something that I didn't expect, but I also must warn you to have tissues. The ending made me cry, I know I'm a cry baby but because I was set up for sadness I wasn't expecting to cry. But I definitely did.
You immediately fall in love with Lucas, he's the sweetheart that every girl wants. Juliet is actually a smart girl, she isn't infuriating like most other female leads in books. You connect with Juliet in the essence that we have all been in her shoes with guys, there have always been those that we were unsure if we should get with and some of us went for it while others didn't. Juliet decides to go for it and the love story that ensues is one that takes you on the roller coaster of your life.
---
I was born in Princeton, NJ in 1971 and lived there until I was twelve, when we moved with my mom moved to West Hartford, CT.
My dad and mom had been divorced when I was two, and my dad lived in Williamstown, MA. I spent summers and school vacations with him.
I went to college in New York, at Barnard, and stayed in New York after I graduated. I worked as a newspaper reporter for three months, as a salesperson for a multimedia publisher for three years, and as a market researcher, and finally a copywriter.
I'm married and have two awesome kids ages two and five. I lived in Manhattan for sixteen years, but now am in Brooklyn, living downstairs from my sister and her family. I have two dogs named Oscar and Oprah. My favorite food is pizza and, strangely, in my thirties, I've developed a great love for playing catch. Slipping is my first book.
GIVEAWAY: Details: Win (1) of (10) finished copies of I Remember You by Cathleen Davitt Bell (US Only)
a Rafflecopter giveaway