There have been quite a few cover reveals in the bookish world lately.
Here are a few that stand out to us.
---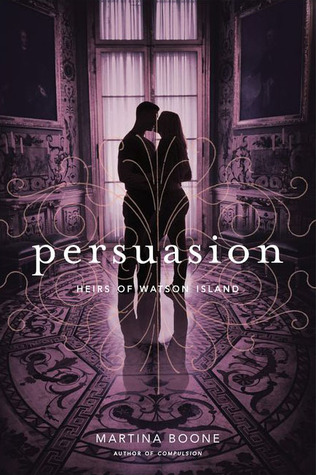 Persuasion
The Heirs of Watson Island #2
Author: Martina Boone
Release Date: October 28th 2015
Publisher: Simon Pulse
Grieving the death of her godfather and haunted by her cousin Cassie's betrayal, Barrie returns from a trip to San Francisco to find the Watson plantation besieged by reporters and ghost-hunters. Some are hoping to see the ancient spirit who sets the river on fire each night, while others are chasing rumors of a stolen shipment of Civil War gold that may be hidden at Colesworth Place. Chaos descends as Cassie hires a team of archeologists to excavate beneath the mansion ruins. But more is buried there than treasure.

A mysterious, magical man appears at Watson's Landing, claiming the key to the Watson and Beaufort gifts and the Colesworth curse also lies beneath the mansion. With a mix of threats and promises, he engages Barrie and Cassie in a midnight visit, but the spell he conjurs has potentially deadly consequences.

While Barrie and dreamy Eight Beaufort struggle to make sense of the escalating danger and their growing feelings for each other, Barrie has to figure out not only whom to trust, but which gift is more reliable—Eight's or her own. With millions of dollars and the fate of the founding families at stake, she must choose between what she feels deep in her heart and what will keep her loved ones safe.
---
Lock & Mori
Lock & Mori #1
Author: Heather W. Petty
Release Date: September 15th 2015
Publisher: Simon & Schuster Children's
FACT: Someone has been murdered in London's Regent's Park. The police have no leads.

FACT: Miss James "Mori" Moriarty and Sherlock "Lock" Holmes should be hitting the books on a school night. Instead, they are out crashing a crime scene.

FACT: Lock has challenged Mori to solve the case before he does. Challenge accepted.

FACT: Despite agreeing to Lock's one rule—they must share every clue with each other—Mori is keeping secrets.

OBSERVATION: Sometimes you can't trust the people closest to you with matters of the heart. And after this case, Mori may never trust Lock again.
---
Hello, Goodbye, and Everything in Between
Author: Jennifer E. Smith
Release Date: September 1st 2015
Publisher: Poppy
On the night before they leave for college, Clare and Aidan only have one thing left to do: figure out whether they should stay together or break up. Over the course of twelve hours, they'll retrace the steps of their relationship, trying to find something in their past that might help them decide what their future should be. The night will lead them to friends and family, familiar landmarks and unexpected places, hard truths and surprising revelations. But as the clock winds down and morning approaches, so does their inevitable goodbye. The question is, will it be goodbye for now or goodbye forever?

This new must-read novel from Jennifer E. Smith, author of The Statistical Probability of Love at First Sight, explores the difficult choices that must be made when life and love lead in different directions.