Welcome to our stop on The Storyspinner tour for Becky Wallace. This tour is hosted by
Rockstar Book Tours
.
---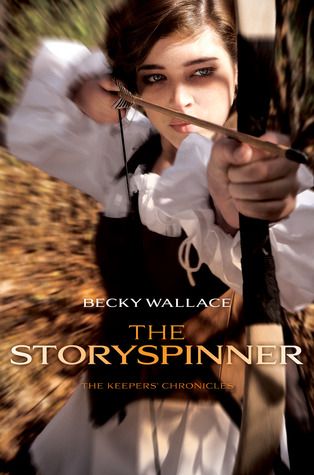 The Storyspinner
The Keepers' Chronicles #1
Author: Becky Wallace
Reading Level: Young Adult
Genre: Fantasy
Released: March 3 2015
Review Source: Margaret K. McElderry
Drama and danger abound in this fantasy realm where dukes play a game for the throne, magical warriors race to find the missing heir, and romance blossoms where it is least expected.

In a world where dukes plot their way to the throne, a Performer's life can get tricky. And in Johanna Von Arlo's case, it can be fatal. Expelled from her troupe after her father's death, Johanna is forced to work for the handsome Lord Rafael DeSilva. Too bad they don't get along. But while Johanna's father's death was deemed an accident, the Keepers aren't so sure.

The Keepers, a race of people with magical abilities, are on a quest to find the princess—the same princess who is supposed to be dead and whose throne the dukes are fighting over. But they aren't the only ones looking for her. And in the wake of their search, murdered girls keep turning up—girls who look exactly like the princess, and exactly like Johanna.

With dukes, Keepers, and a killer all after the princess, Johanna finds herself caught up in political machinations for the throne, threats on her life, and an unexpected romance that could change everything.
Johanna is a girl who dreams of being a storyspinner like her father, a man who captivated audiences with his brilliance. As she works at bettering her storyspinning career she begins to realize that there is a possibility that the stories she's heard her father spin might possibly be real.
This story was a lot more epic then I anticipated. You follow so many different characters, you love them each and don't ever want to switch between perspectives but you want to get back to everyone's stories no matter what. I haven't read Game of Thrones but from what I've heard this perspective changing story telling is in lieu of Game of Thrones' writing. So for fans of Game of Thrones I would say give this a chance. There's a whole mythical world that takes place within The Storyspinner, a world in which every fantasy fan would want to live in. The story teleports you into this world, and you only want to stay there. I wasn't expecting such a fantastic fantasy story when I first started reading, and as the story escalated it only engrossed me more and more.
---
In second grade, Becky Wallace had to sit in the corner because she refused to write anything except princess stories and fairy tales (and because she talked too much). Her time in isolation gave her plenty of opportunities to dream up the fantasy worlds she's been dabbling with ever since. She was lucky enough to find her own real-life Prince Charming. They have four munchkins and live in happy little town near Houston, Texas.
a Rafflecopter giveaway