---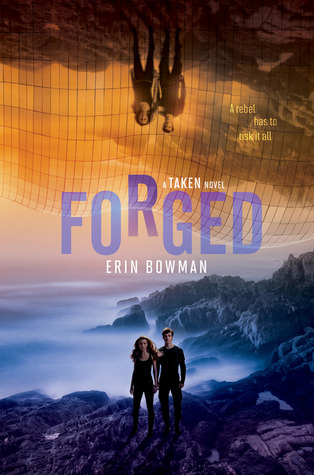 Forged
Taken #3
Author:
Erin Bowman
Reading Level: Young Adult
Genre: Dystopia
Released: April 14th 2015
Review Source: HarperTeen
Gray Weathersby and his group of rebels must make their final stand in the epic conclusion to the Taken trilogy, which New York Times bestselling author Marie Lu called "an action-packed thrill ride from beginning to end."

The Order is building an unstoppable army, with every generation of Forgeries harder to detect and deadlier than the one before. It's time for Gray and his fellow rebels to end the Order's world of lies. But when the most familiar faces—and even the girl he loves—can't be trusted, Gray will have to tread carefully if he wants to succeed. Or survive.
Forged is the third and last book of the Taken series. I liked it for the most parts but there were some parts I was not crazy about.
Cover:
The one thing that drew me in to this series were the covers. They're so colorful and pretty! And if you stare at them for a period of time, then you realize something, they are creepy. These are not reflections, but something else… Forged.
If you're like me, I like to pick books because of the covers. It's a bad habit. I know.
Action:
The gang have join forces with the rebels to stop Frank and the Orders. As they try to stop them, they realize they cannot trust anyone. The Forged ones are everywhere and the latest version are extremely difficult to tell apart. Let me just say, this book and series is complete with betrayals!
My Thought:
What I loved most about this book is that Gray did not give up on Bree. He went through many betrayals, heartbreaks, but he did not want to give up on her. Sure, he did many mistakes but this was his best decision.
As much as I loved Gray fighting for Bree… there were times I doubted Bree had her best interest in him. I wasn't sure if she ever wanted to forgive him. She made rude comments and acted like there were no one to trust. They were in a tough situations. They were in hiding. They needed to fight together and she did not trust Grey. The one good thing she did is tell him something that would make everything better while in combat with the Forges.
Overall, the rebels were able to end Frank and his crazy project. Bree and Gray were finally together. Gray ended on a good note with Emma, which was important for both.
Forged was a good wrap up of the series. It's pretty satisfying conclusion. I am glad I decided to read the Taken Series. I think everyone should too!