---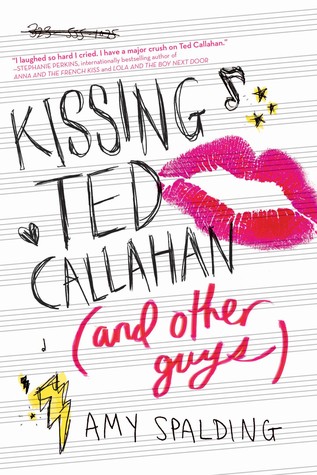 Kissing Ted Callahan (And Other Guys)
Author:
Amy Spalding
Reading Level: Young Adult
Genre: Contemporary
Released: April 7th 2015
Review Source: Poppy Books
Nick and Norah's Infinite Playlist meets Easy A in this hilariously realistic story of sneaking out, making out, and playing in a band.

After catching their bandmates in a compromising position, sixteen-year-old Los Angelenos Riley and Reid become painfully aware of the romance missing from their own lives. And so a pact is formed: they'll both try to make something happen with their respective crushes and document the experiences in a shared notebook.

While Reid struggles with the moral dilemma of adopting a dog to win over someone's heart, Riley tries to make progress with Ted Callahan, who she's been obsessed with forever-His floppy hair! His undeniable intelligence! But suddenly cute guys are popping up everywhere. How did she never notice them before?! With their love lives going from 0 to 60 in the blink of an eye, Riley and Reid realize the results of their pact may be more than they bargained for.
Kissing Ted Callahan (And Other Guys) takes you straight into high school. And, every bit of it is enjoyable to say the least! We follow Riley, an alluring character, that literally makes you laugh out loud. No, seriously, Amy Spalding deserves all the awards for making you physically laugh very loudly. I definitely see the comparison to a movie like Easy A. It's about a characters' journey of growing up and maturing, making some sloppy mistakes along the way. Doesn't that define everyone at some point? It is definitely what makes Riley super relatable.
Riley tackles situations with a jump gun start. Like, speaking before you think so to say. She, and her best friend Reid, do make the pact that they each WILL try to make things happen with their crushes. But, what happens when one crush turns into three? *AKA Every other teenager in the world* (Okay, maybe saying every is a bit excessive but you get the picture.) All Riley is worried about is making out. Which is cute, but can seem a little too cheesy at some points. It didn't take away from the overall book though. Reid, on the other hand, calculates his every move which, in my opinion, is totally adorable. I couldn't decide who my favorite male character was. Reid, or Ted Callahan! There I go having two crushes. See what I mean?!
Kissing Ted Callahan, with all it's cuteness and LOL laughter, is definitely a must read for those in high school, or those wanting to walk down their teenage memory lane.