---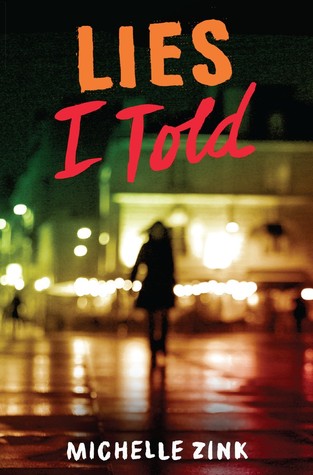 Lies I Told
Lies I Told #1
Author:
Michelle Zink
Reading Level: Young Adult
Genre: Contemporary
Released: April 7th 2015
Review Source: HarperTeen
What if, after spending a lifetime deceiving everyone around you, you discovered the biggest lies were the ones you've told yourself?

Grace Fontaine has everything: beauty, money, confidence, and the perfect family.

But it's all a lie.

Grace has been adopted into a family of thieves who con affluent people out of money, jewelry, art, and anything else of value. Grace has never had any difficulty pulling off a job, but when things start to go wrong on the Fontaines' biggest heist yet, Grace finds herself breaking more and more of the rules designed to keep her from getting caught...including the most important one of all: never fall for your mark.

Perfect for fans of Ally Carter, Cecily von Ziegesar, and Gail Carriger, this thrilling, high-stakes novel deftly explores the roles of identity and loyalty while offering a window into the world of the rich and fabulous.
This book, this book right here had me enticed from the very first page! Within the first chapter I was completely sold, I needed to know how this was going to play out and what's to become of this family in the end.
Grace Fontaine may look like your average teenager from the outside to the strangers looking in, but in reality Grace is just an actress moving town to town ripping off the rich and leaving as if nothing ever happened. Grace was adopted by Cormac and Renee along with another foster child, Parker, and then their family was perfect to set up to move around integrating themselves in the lives of the rich, just long enough to learn their life and how to rip them off successfully.
When Grace and her family move to Playa Hermosa and everything is slightly off its axis, things are slipping, people are perceptive, and true feelings start evolving making choices harder. Along with everything going on Grace's brother wants out of the con life and needs Grace to be there with him, then Grace falls hard for Logan and wants to stay put, and then the inner war of between love and safety or to be faithful to the only family she's ever known.
Lies I Told
had a voice that just drew you in, a story that was suspenseful, and a first love that made everything seem okay, this is definitely one you'll want to pick up. Plus while I was writing up my post for this I found out that there's going to be a sequel which totally makes me excited because I was disappointed in the ending, thinking all my questions went unanswered.