---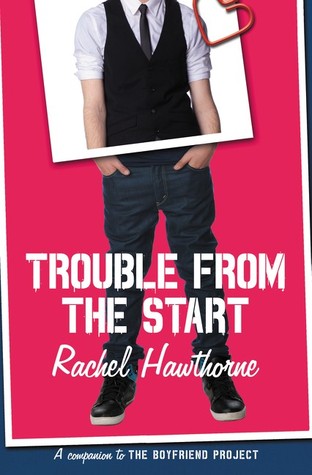 Trouble From the Start
Author:
Rachel Hawthorne
Reading Level: Young Adult
Genre: Contemporary
Released: April 28, 2015
Review Source: Harper Teen
Perfect for fans of Stephanie Perkins, Lauren Barnholdt, and Susane Colasanti, Trouble from the Start is a sweet and romantic read about a good girl who falls for a bad boy.

Avery knows better than to fall for Fletcher, the local bad boy who can't seem to outrun his reputation. Fletcher knows he shouldn't bother with college-bound, daughter-of-a-cop Avery. But when their paths cross, neither can deny the spark. Are they willing to go against everything and let their hearts lead the way? Or are they just flirting with disaster?

A companion novel to Rachel Hawthorne's paperback original The Boyfriend Project, this title is perfect for fans of summer beach reads and sweet treats.
Avery- nice girl with amazing grades and brains but, not very popular against her peers because her did is a cop and all. *eyeroll* Kids!
Fletcher- typical bad boy who rides a motorcycle and has a player type reputation.
The two characters couldn't be more different- which is what makes for a great YA romance read.
Trouble From the Start is the perfect book to pick up when you need a "can't-put-this-down" book. Although quite predictable, it is still very enjoyable. It's told from both Avery and Fletcher's POV's which I think is perfect! Trouble From the Start released simultaneously with The Boyfriend Project. And, I haven't read The Boyfriend Project but, after reading Trouble From the Start, I'll be adding it to my fun summer reading list! Rachel Hawthorne's writing style made it easy to dive into the book and not set it down.
There were definitely some ADORABLE romantic moments between Fletcher and Avery that I couldn't help but swoon over. Also, I don't understand why she wasn't more popular. I would've totally been her friend in high school. Then again I was also the overachieving type. *hands over eyes.*
Pick up Trouble From the Start for a fun read. Who doesn't love a good girl falls for the bad boy story?