---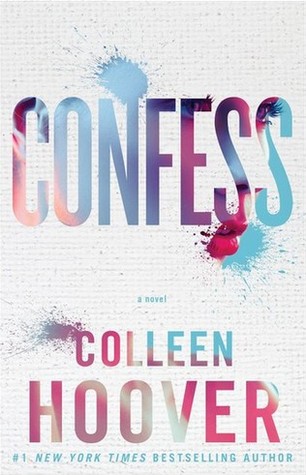 Confess
Author: Colleen Hoover
Reading Level: New Adult
Genre: Contemporary Romance
Release Date: March 10th 2015
Review Source: Atria Books
From #1 New York Times bestselling author Colleen Hoover, a new novel about risking everything for love—and finding your heart somewhere between the truth and lies.

Auburn Reed has her entire life mapped out. Her goals are in sight and there's no room for mistakes. But when she walks into a Dallas art studio in search of a job, she doesn't expect to find a deep attraction to the enigmatic artist who works there, Owen Gentry.

For once, Auburn takes a risk and puts her heart in control, only to discover Owen is keeping major secrets from coming out. The magnitude of his past threatens to destroy everything important to Auburn, and the only way to get her life back on track is to cut Owen out of it.

The last thing Owen wants is to lose Auburn, but he can't seem to convince her that truth is sometimes as subjective as art. All he would have to do to save their relationship is confess. But in this case, the confession could be much more destructive than the actual sin…
---
My mouth is agape and my eyes are wide as I stand and read all the confessions my eyes can reach. I still have no idea what this building is or what I even think about all these things being plastered up for the world to see, but reading them somehow gives me a sense of normalcy. If these are all true, then maybe my life isn't quite as bad as I think it is.
After no less than fifteen minutes, I've made it to the second window, having read most of the confessions to the right of the door, when it begins to swing open. I take a step back to avoid being hit, while I simultaneously fight the intense urge to step around the door and get a peek inside the building.
A hand reaches out and yanks the HELP WANTED sign. I can hear a marker sliding across the vinyl sign as I remain poised behind the door. Wanting to get a better look at whoever or whatever this place is, I begin to step around the door just as the hand slaps the HELP WANTED sign back onto the window.
Help Wanted.
Knock to apply.
DESPERATELY NEEDED!!
BEAT ON THE DAMN DOOR!!
I laugh when I read the alterations made to the sign. Maybe this is fate. I desperately need a second job and whoever this is desperately needs help.
The door then opens further, and I'm suddenly under the scrutiny of eyes that I guarantee are more shades of green than I could find on his paint-splattered shirt. His hair is black and thick and he uses both hands to push it off his forehead, revealing even more of his face. His eyes are wide and full of anxiety at first, but after taking me in, he lets out a sigh. It's almost as if he's acknowledging that I'm exactly where I'm supposed to be and he's relieved I'm finally here.
He stares at me with a concentrated expression for several seconds. I shift on my feet and glance away. Not because I'm uncomfortable, but because the way he stares at me is oddly comforting. It's probably the first time I've felt welcomed since I've been back in Texas.
---
Don't forget to check out Me, My Shelf & I tomorrow for the next episode in the CONFESS excerpt chain, and follow along with all the other stops on the 10 Days of Confess chain!
---
Colleen Hoover is the #1 New York Times bestselling author of Slammed, Point of Retreat, This Girl, Hopeless, Losing Hope, Maybe Someday, and Finding Cinderella. She lives in Texas with her husband and their three boys. Please visit
ColleenHoover.com
.
1 print copy of CONFESS!
Open to US/Canada only
a Rafflecopter giveaway