Welcome to our stop on Miss Mayhem tour for Rachel Hawkins. This tour is hosted by
PenguinTeen
.
---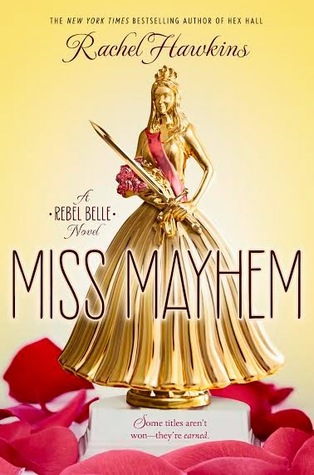 Miss Mayhem
Rebel Belle #2
Author: Rachel Hawkins
Reading Level: Young Adult
Genre: Paranormal
Release Date: April 7th 2015
Review Source: Putnam Juvenile
Life is almost back to normal for Harper Price. The Ephors have been silent after their deadly attack at Cotillion months ago, and best friend Bee has returned after a mysterious disappearance. Now Harper can return her focus to the important things in life: school, canoodling with David, her nemesis-turned-ward-slash-boyfie, and even competing in the Miss Pine Grove pageant.

Unfortunately, supernatural chores are never done. The Ephors have decided they'd rather train David than kill him. The catch: Harper has to come along for the ride, but she can't stay David's Paladin unless she undergoes an ancient trial that will either kill her . . . or connect her to David for life.
Throughout my pre-teen and teen years, I must say I was never into paranormal. Not that I was against it, I just never was curious enough… In order for me to read a paranormal book was extreme at that time. I was always reading my sad books or the Sweet Valley High/University series. Now with Rachel, she is one of the authors that made me fall in love with Paranormal. With her charming characters and sassiness, who wouldn't be able to fall in love with her books?
On this second book of her series, Miss Mayhem starts right where Rebel Belle left off. And it was insane. Harper once again tries to prove that she is a very talented person, she can do multiple jobs at once. An overachiever. However, even the brightest of all must catch a break every now and then. In this sequel, Harper learns that sometimes having it simple sometimes can be more than enough.
Miss Mayhem is a quick-easy read that will keep you turning pages. With the touch of snark comments, Harper and the gang will keep you entertained. Not only will they teach you one or two thing about magic but they will also teach you about true friendship, family and most of all what's more important in life, love. Rachel once again has outdone herself, read Rebel Belle and order Miss Mayhem now!
Thank you so much for coming to Once Upon a Twilight! I am a big fan of your books and I'm totally fangirling.
My first question to you is, what were you like in high school? Is Harper alike teenage Rachel?
Haha, NO, Harper could not be any more different than High School Rachel. I was a chronic UNDERachiever, one of those kids who got good grades in subjects I loved, but subpar grades in things like chemistry and math. Thankfully, all the reading I did ensured that I DID do really well on standardized tests, so that helped offset that lackluster GPA. ;) And I certainly never did the Homecoming Queen Thing! Basically, I wasn't a popular kid or an outcast, but just that girl who read and wrote a lot, and could OCCASIONALLY be kind of funny.
I know you're a fangirl, yes I do follow you on Twitter. I know we share the love of GoT and The 100. Tell me, how do you cope after watching an insane episode (pretty much every episodes). Do you even recover?
I'm lucky to be friends with other fangirls, so there's usually a lot of texting and/or capslock filled emails!
If you were given the role to play a character in The 100, who would you choose? Why?
I'd like to be Clarke's BFF, the girl who doesn't actually do anything dangerous, but is like, "YEAH, CLARKE, YOU GO, GIRL!" I would also probably advise her to kiss Bellamy, let's be honest.
What are you looking forward in Game of Thrones season 5?
My Pretend Boyfriend Jon Snow killing the boy, letting the man be born (Yes, that's a quote form the books, and yes, I am a dork.)
Can you share with us your reaction when you first saw the ad of Rebel Belle on The CW website?
There was MUCH flailing. I was actually in the Atlanta airport with several other authors, and when a friend first tweeted me about the ad, I thought she was maybe just seeing a "cookie" ad on the site, one of those, "You searched this, so here is an ad for that thing on Amazon!" deals. But then she got a screengrab, and one of my Author Buds was able to pull it up on her computer, and FLAILING COMMENCED! Then I took like a million pictures and put it all over the internet because duh.
Tell us a fun fact about yourself.
I used to teach high school English, and as such, still have a pretty good grasp of Middle English.
When you go on tour, what is the one thing you must do before leaving your house?
Hug everyone, snuggle my cats, and make sure I have my ID/money. I always remind myself that those are the two things I CANNOT forget on tour. Everything else can be replaced!
What YA would you recommend your fans to read, after yours, of course.
Kiersten White's books always have a great mix of humor and heart, as do Alison Cherry's. Also loved Ally Carter's newest, All Fall Down!
Thank you so much for answering our questions!!!
---
Rachel Hawkins was born in Virginia and raised in Alabama. This means she uses words like "y'all" and "fixin'" a lot, and considers anything under 60 degrees to be borderline Arctic. Before deciding to write books about kissing and fire (and sometimes kissing while on fire), Rachel taught high school English for 3 years, and is still capable of teaching you The Canterbury Tales if you're into that kind of thing.
She is married to a geologist, which means that they have incredibly strange dinner conversations ("So today at work, I wrote a chapter where killer fog, like, ATE PEOPLE." "Huh. Well, I was chased by an angry reindeer while trying to map parts of Norway." "Um...okay.")
Rachel also has a little boy whose main hobbies are playing video games, running around in circles, and plotting his Future Intergalactic Take-Over.
When not writing books, Rachel enjoys reading, travelling, and knitting (very terribly.)
a Rafflecopter giveaway