---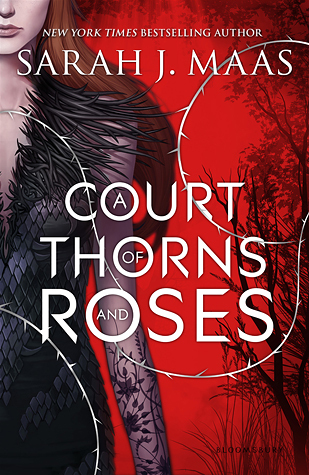 A Court Of Thorns And Roses
A Court Of Thorns And Roses #1
Author:
Sarah J. Maas
Reading Level: Young Adult
Genre: Fantasy
Released: May 5 2015
Review Source: Bloomsbury Children's
A thrilling, seductive new series from New York Times bestselling author Sarah J. Maas, blending Beauty and the Beast with faerie lore.

When nineteen-year-old huntress Feyre kills a wolf in the woods, a beast-like creature arrives to demand retribution for it. Dragged to a treacherous magical land she only knows about from legends, Feyre discovers that her captor is not an animal, but Tamlin—one of the lethal, immortal faeries who once ruled their world.

As she dwells on his estate, her feelings for Tamlin transform from icy hostility into a fiery passion that burns through every lie and warning she's been told about the beautiful, dangerous world of the Fae. But an ancient, wicked shadow grows over the faerie lands, and Feyre must find a way to stop it . . . or doom Tamlin—and his world—forever.

Perfect for fans of Kristin Cashore and George R. R. Martin, this first book in a sexy and action-packed new series is impossible to put down!
Feyre is a nineteen year old who has learned over the past few years how to take care of her family. When she accidentally kills a faerie she gets introduced to those of legends, the ones that she has feared for years. Taken away to the Spring Court she learns so much more than her legends ever told her, and she learns that even differences in people doesn't mean you can't fall in love.
I am in love with this book. It helps that it is heavily influenced by Beauty and the Beast and Belle is my all time favorite princess. It was easy for me to figure out the direction that the story was going to go into next, but it didn't bother me because although it was like Beauty and the Beast it did have its differences. There were some times when I would want more action and fighting than romance but I feel like the next books in the series will have a lot more battles than this first one had.
This was the first book of Maas' that I have read, and honestly I now plan on reading everything she has written. She writes in details that makes you feel, or wish, you were in that world. I would've loved to be present in the Spring Court, to see the glen's, the rites and dances. It made me wish I was a High Fae and that I could see the world through their eyes, which in essence I did. Maas transports you to this world and helps you to live there. I'm positive that my mind has set up camp in the Spring Court, although I feel like I would like the Dawn Court or Summer Court I would want to be near Tamlin. He's a beast who falls for a human, something uncommon in their world-which is the central point of the story. Tamlin is a character that I loved from the beginning, and as the story went on my love for him grew.