---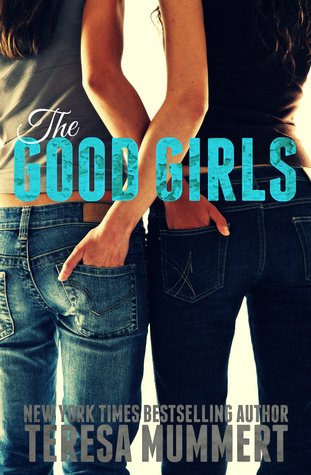 The Good Girls
Author:
Teresa Mummert
Reading Level: New Adult
Genres: Contemporary Romance
Release Date: April 6th 2015
Review Source: Author
New York Times and USA Today Bestselling Author

My life was meticulously planned and I refused to deviate from that path. While my peers were partying, I prepared for the future. Then a tragic event destroyed everything and I learned that while I was looking ahead, I forgot to live in the moment.

Starting over seemed impossible until I met Cara McCarthy, who lived every day like it was her last. She opened my eyes to a world of chaos and disorder. I loved every minute of it. She was also dating Tristan Adams, one of the most gorgeous men I'd ever seen.

The three of us became inseparable. Our parents were oblivious and soon lines became blurred, feelings began to grow, and someone's heart was going to get broken. I hoped it wasn't mine.

Full-length stand alone novel
When I came across the cover to The Good Girls, I knew I had to check it out. I was in the mood to read something outside of the box somewhat and The Good Girls was just the right book for that. I don't think I really ever read a true F/F book before. I've read books that just have moments or scenes that it's F/F but not a whole book dedicated to a F/F romance. Mummert really did a great job with The Good Girls, because at no point in time does it read like something straight out of a porn, it was very well written with class and taste. The love story is simply beautiful.
In The Good Girls, you meet Ellie at first. Poor Ellie tragically lost her mother and has now been uprooted to go live with her father that she hardly knows and his wife. Also living in the father's house is Cara. Cara is not Ellie's father daughter, she was just given room and board so she could stay away from her mother which she didn't get along with. Ellie and Cara slowly become friends and privately they both want more. Cara though has a boyfriend and this puts a halt on everything Ellie feels. But Cara just happens to be there at the right times when Ellie needs that shoulder to cry or lean on to get through her mother's passing. The wall Ellie put up so her feelings don't come out, is slowly breaking away and she doesn't know if Cara is ready for that. Cara also doesn't know how much longer before she breaks too but she can't let the past repeats itself and she doesn't want to ruin Ellie's life she is trying to build again after her mother's passing.
As their relations as friends begins to cross over into something else, Cara hits a wall with Ellie's father and she has to move back with her mom. Ellie's dad doesn't want her ways to rub off on Ellie, he doesn't know he is a little too late for that. But Cara obliges and leaves without even a good bye. Time passes and hearts have broken and voids left empty, but what happen when Ellie and Cara meet again? And did I mention Cara's boyfriend didn't take to kindly to Cara's reason to depart. You'll have to read The Good Girls to find out everything that takes place in this story.
I'm so glad Teresa Mummert is now on my radar, because I enjoyed reading this story. I recommend The Good Girls to anyone that loves a passionate love story tastefully written that deals with many obstacles but they fight their way through it all. I do ask that you be at least 18 years or older. The Good Girls contains sexual content not suited for minors. Happy Reading!
You can check out some teasers
HERE
for
The Good Girls
!!