---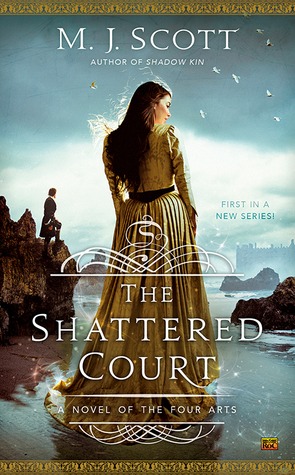 The Shattered Court
A Novel of the Four Arts #1
Author:
M.J. Scott
Reading Level: New Adult
Genre: Fantasy
Released: April 28th 2015
Review Source: Roc
First in a new fantasy series from the author of the Novels of the Half-Light City.

Entangled in a court ruled by tradition and intrigue, a young witch must come to terms with newfound power and desire—and a choice between loyalty and survival.…

The royal witches of Anglion have bowed to tradition for centuries. If a woman of royal blood manifests powers, she is immediately bound by rites of marriage. She will serve her lord by practicing the tamer magics of the earth—ensuring good harvests and predicting the weather. Any magic more dangerous is forbidden.

Lady Sophia Kendall, thirty-second in line to the throne, is only days away from finding out if she will be blessed—or perhaps cursed—with magic. When a vicious attack by Anglion's ancient enemies leaves the kingdom in chaos, Sophia is forced to flee the court. Her protector by happenstance is Lieutenant Cameron Mackenzie, a member of the royal guard, raised all his life to be fiercely loyal to the Crown.

Then Sophia's powers manifest stronger than she ever imagined they would, and Cameron and she are inextricably linked in the process. As a witch unbound by marriage rites, Sophia is not only a threat to the established order of her country, but is also a weapon for those who seek to destroy it. Faced with old secrets and new truths, she must decide if she will fight for her country or succumb to the delicious temptation of power.…
When I think of witches, I imagine crazy magic, mystery and a great adventure. Im not going to say I loved The Shattered Court nor will I say I disliked it. Overall, it was good story. I did enjoy it for the most part. There are things that I hope for, like more actions, maybe more magic. At this, I think the book fell short at. There were many explanations and at times, I think the book dragged a bit.
Days before her birthday, Lady Sophia Kendall is to determined if she is blessed. Whether she will gain magic or not. This will determine her life forever. As she is instructed to go to Portholme she is accompanied by Lieutenant Cameron in this mini journey. On their return back to the court, they realize it is under attack. As a duty to keep Lady Sophia safe, Cameron embarks another journey to keep her safe. During this time, Sophia manifest her power and well with the touch of ley line, sparkle and lust is in the air. With this Lady Sophia and Cameron become one, not knowing the consequences of their actions.
As the queen-to-be learns the truth, she advise Lady Sophia she is to wed Lieutenant Cameron and keep her powers secretly. Why? What is going on? Unfortunately, we do not learn much about her magic.
Since this is an introduction to the series, I hope we learn more of what is to become of Lady Sophia. She is powerful, very powerful. But why is she in hiding? I know someone tried to killed her but it is uncertain of the reason.
The story is short and it doesn't end on a cliffhanger but it does leave us wanting more.