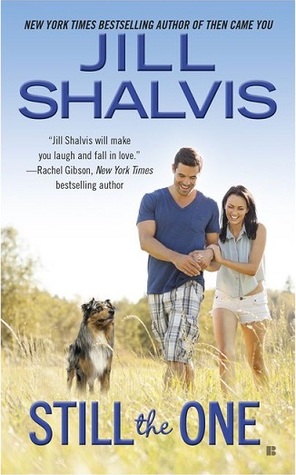 Still the One
Animal Magnetism #6
Author:
Jill Shalvis
Reading Level: Adult
Genre: Contemporary Romance
Released: April 7th 2015
Review Source: Berkley | NetGalley
Darcy Stone is game for anything — except sexy Navy veteran and physical therapist A.J. Colten, the guy who'd rejected her when she'd needed him most. Now the shoe is on the other foot and he needs her to play nice and help him secure grants for his patients. Unfortunately, Darcy can't refuse. She needs the money to fund her passion project: rescuing S&R dogs and placing them with emotionally wounded soldiers.

A.J. admits it — Darcy is irresistible. But he's already been battle-scarred by a strong-willed, vivacious, adventurous woman like Darcy, and he's not making the same mistake twice—until he and Darcy are forced to fake a relationship. Growing closer than they'd ever imagined possible, Darcy and AJ have to ask themselves: how much between them is pretend? What's the real thing? And where does it go from here?
You guys.
Excuse me while I slap myself.
I've been told "read the Animal Magnetism series" many many times. Of course I leave every recommendation for last. So here I am slapping myself. Not only do I have to catch up with this series, but I am completely hooked by reading the latest series.
Nothing beats romance set in a small town. Everyone knows everyone. Friends are made for life. And love is always in the air. (Yeah, totally a city girl). Since I can only read these romances instead of living it, sucks for me, I can only tell you that Animal Magnetism is a must read. Still the One captured the perfect story of how two completely different people can fall in love with one another. Between Darcy and A.J, the sassiness and sense of humor, these two had me laughing out loud. But their chemistry had me in a puddle of emotions. They're surely meant to be with one another!
I completely inhaled Still the One in one sitting. I was swooning from left to right. I will be reading the other books of this series like there is no tomorrow. Thank you Jill for sharing such an amazing story!