---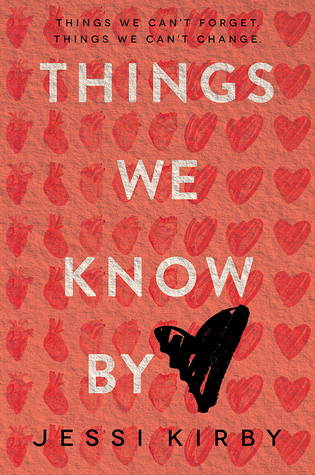 Things We Know by Heart
Author:
Jessi Kirby
Reading Level: Young Adult
Genres: Contemporary Romance | Realistic Fiction
Release Date: April 21st 2015
Review Source: HarperTeen
In this unforgettable teen romance that fans of Sarah Dessen and Susane Colasanti will devour, Quinn Sullivan falls for the recipient of her boyfriend's donated heart, forming an unexpected connection that will leave readers utterly breathless.

After Quinn's boyfriend, Trent, dies in an accident their junior year, she reaches out to the recipients of his donated organs in hopes of picking up the fragments of her now-unrecognizable life. But whoever received Trent's heart has mysteriously remained silent. The essence of a person, Quinn has always believed, is in the heart. If she finds Trent's, then in a way she still has a piece of him.

Risking everything to find peace once and for all, Quinn goes outside the system to track down nineteen-year-old Colton Thomas—a guy whose life has been forever changed by this priceless gift. But what starts as an accidental run-in quickly develops into more, sparking an undeniable attraction. She doesn't want to give in to it—especially since he has no idea how they're connected—but their time together has made Quinn feel alive again. No matter how hard she's falling for Colton, each beat of his heart reminds her of all she's lost . . . and all that remains at stake.
This is me while I read the book:
This is me after I finished reading the book:
The End!
It's that simple. These two GIFs describe how much I loved/adored/cherished this book. But it's no surprise because I have had the same sentiments before over Kirby's past novels. So hard to explain in words what it is about Kirby's writing and books that make them amazing. But they truly are masterpieces to me. It might be the realism you find in the words written or the beautiful moments spread throughout but whatever the case, it is their written in plain English.
Things We Know by Heart is the story of Quinn, she loose her boyfriend in a tragic car accident. This leaves Quinn so heartbroken, everything in her life changes. Quinn just can't come back from such a tragic moment in her life. She pretty much lost everything after Trent died. So when she begins to focus on finding out who received Trent's organs, it gives her a new lifeline and reason to breathe again. She gets obsessed with this task and when she hits a speed bump when it comes to finding out who has Trent's heart, she makes it her life to find out. She is angry that whoever has his heart, doesn't have the decency to let her know.
Then Quinn finally puts the pieces together and figures out her quest. She has discovered who is the recipient of Trent's beautiful heart. She becomes obsessed following everything she can about this person. Then one day she takes her obsession to the next level, she goes out to see him. Quinn didn't really plan it out very good, so when she runs into him and I mean not of the literally sense. She basically comes face to face with Colton. That right their sets of a future that wasn't planned. What will Quinn do or say to Colton? You have to read how this run-in transpires and what its set off in-motion. You will not be disappointed.
Things We Know by Heart is beautifully written and I can't stress how much I believe you all should read it. I don't want to compare it to anything written on the market because I feel it can stand alone and carry its own weight. Have some tissues on hand because you will need them. If you don't know or have Jessi Kirby on your author radar, YOU SHOULD!!!
You can listen to the first chapter of Things We Know by Heart below:
Here are all of Kirby's other amazing novels. We have reviews for
Golden
,
In Honor
and
Moonglass
on OUaT, check them out. Click on cover to be taken to amazon:
---