Waiting on Wednesday
"Waiting On Wednesday" is a weekly event, hosted by Breaking The Spine, that spotlights upcoming releases that we're eagerly anticipating.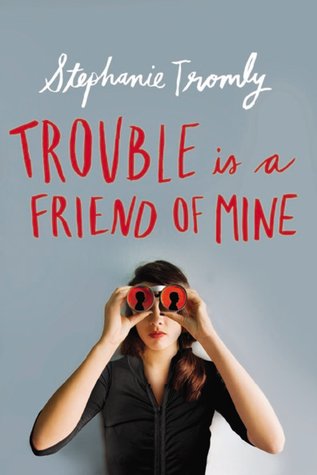 Trouble is a Friend of Mine
Author: Stephanie Tromly
Release Date: August 4th 2015
Publisher: Kathy Dawson Books
Sherlock meets The Breakfast Club in this story of a wisecracking girl who meets a weird but brilliant boy and their roller-coaster of a semester that's one part awkward, three parts thrilling, and five parts awesome

After her parents get divorced, high school junior Zoe Webster moves with her mother from Brooklyn to upstate New York, determined to get back to the city and transfer to the elite private school her father insists on. But then she meets Philip Digby--the odd and brilliant and somehow attractive?--Digby, and soon finds herself in a series of hilarious and dangerous situations all centered on his search for the kidnapper of a local teenage girl who may know something about the tragic disappearance of his kid sister eight years ago. Before she knows it, Zoe has vandalized an office complex with fake snow, pretended to buy drugs alongside a handsome football star dressed like the Hulk, had a serious throw down with a possible religious cult, challenged her controlling father, and, oh yeah, saved her new hometown.

For fans of John Green and David Levithan, this is a crime novel where catching the crook isn't the only hook, a romance where the leading man is decidedly unromantic, a friendship story where they aren't even sure they like each other, and a debut you won't soon forget.