Welcome to our stop on All The Rage tour for Courtney Summers. This tour is hosted by St. Martin's Press.
---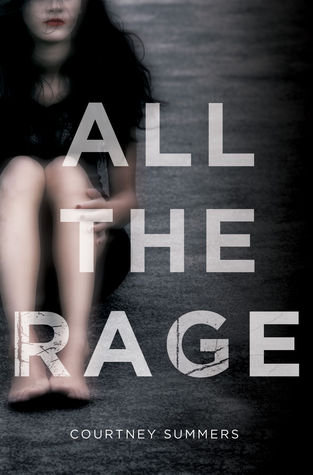 All The Rage
Author: Courtney Summers
Reading Level: Young Adult
Genre: Contemporary
Release Date: April 14th 2015
Review Source: St. Martin's Griffin
The sheriff's son, Kellan Turner, is not the golden boy everyone thinks he is, and Romy Grey knows that for a fact. Because no one wants to believe a girl from the wrong side of town, the truth about him has cost her everything—friends, family, and her community. Branded a liar and bullied relentlessly by a group of kids she used to hang out with, Romy's only refuge is the diner where she works outside of town. No one knows her name or her past there; she can finally be anonymous. But when a girl with ties to both Romy and Kellan goes missing after a party, and news of him assaulting another girl in a town close by gets out, Romy must decide whether she wants to fight or carry the burden of knowing more girls could get hurt if she doesn't speak up. Nobody believed her the first time—and they certainly won't now — but the cost of her silence might be more than she can bear. 

With a shocking conclusion and writing that will absolutely knock you out, All the Rage examines the shame and silence inflicted upon young women after an act of sexual violence, forcing us to ask ourselves: In a culture that refuses to protect its young girls, how can they survive?
All the Rage is the perfect name for this book. After reading this the reader can only feel one thing
RAGE
.
ALL THE FREAKING RAGE
.
I am not going to tell you about the book because I need you to read it. I need you to feel this anger that this book provokes.
This world is upsidedown. This world is filled with madness. How dare do one accuse a victim of rape because she may like it?! WTF.
No means NO!
How dare does one stomp upon these victims? To make them feel unwanted? To make them feel like they are unworthy of living.
Seriously, this book is filled with rage.
It is infuriating to read such story.
Poor Romy.
It is wrong to side with the person that caused the harm. It doesn't matter if this person is popular.
IT. IS. NOT. OKAY!
Please read All the Rage and make aware to everyone when someone says no it MEANS NO. It doesn't sugarcoat what others try to cover. Such a horrible one can experience. Read it
now
.
Can you tell us a little bit about yourself?
My name is Courtney Summers and I write young adult fiction. I was born and live in Canada. When I was fourteen, I left high school to pursue my education independently and around the time I would have graduated, I realized I wanted to be an author. My books are Cracked Up to Be, Some Girls Are, Fall for Anything, This is Not a Test, Please Remain Calm and All the Rage. You can find me online at courtneysummers.ca
What were your biggest challenges in writing All the Rage?
I often write about heavier subjects like depression, girl-bullying, suicide. All the Rage is about the consequences of rape culture and when you write about a subject like rape culture, you want to be very conscious and respectful of what you're bringing to the larger discussion. It's a lot of pressure, but it's a necessary pressure.
What is your favorite quote in All the Rage?
"I hope it's not a girl."
– Romy
Thanks for having me on your blog!
---
Courtney Summers lives and writes in Canada, where she divides most of her time between a camera, a piano and a word processing program. She is also the author of What Goes Around, This is Not a Test, Fall for Anything, Some Girls Are, Cracked Up to Be, and Please Remain Calm.