---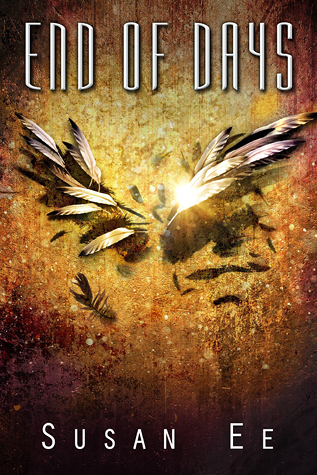 End of Days
Penryn & the End of Days #3
Author:
Susan Ee
Reading Level: Young Adult
Genres: Supernatural | Post Apocalyptic
Release Date: May 12th 2015
Review Source: Skyscape
End of Days is the explosive conclusion to Susan Ee's bestselling Penryn & the End of Days trilogy. After a daring escape from the angels, Penryn and Raffe are on the run. They're both desperate to find a doctor who can reverse the twisted changes inflicted by the angels on Raffe and Penryn's sister. As they set off in search of answers, a startling revelation about Raffe's past unleashes dark forces that threaten them all.

When the angels release an apocalyptic nightmare onto humans, both sides are set on a path toward war. As unlikely alliances form and strategies shift, who will emerge victorious? Forced to pick sides in the fight for control of the earthly realm, Raffe and Penryn must choose: Their own kind, or each other?
Before anything I am just going to admit I am obsessed with Raffe! If you read this series, you'll understand why the obsession. I am sad to see the series end and know I won't be enjoying the Archangel with the beautiful white wings anymore.
The time has come for the conclusion to Susan Ee's bestseller. This series since book one, Angelfall has maintain itself as one of my all-time favorites series ever read. From the minute I cracked open the pages to Angelfall, I was a goner. Then Ee gave us World After, which kept me even more engrossed in the series and pining for End of Days to arrive, which now it has and I want to relive every moment again. I recommend this series with every fiber of my being. I have always talk and push Penryn & End of Day and will continue to do so even after the series conclusion. Those that haven't read it, are now the lucky ones. You can read all 3 books back to back and not have to suffer the wait like I did. And then it can be your turn to push the books to your friends.
If you haven't read this series, go buy book 1 and do not read beyond this point since I can't help myself if I give away spoilers from book 1 and 2. I won't give anything away from book 3, but I wouldn't want to ruin the reading experience from those that are now running to the bookstore or hitting buy on Amazon right now.
******* Do Not Read Beyond This Point if You Havent Read Previous Books ******
End of Days begins where World After ended. Penryn and Raffe are looking for a "doctor" to give him back his beautiful white wings. He is done with the demon wings and is ready to become the Archangel he is meant to be. Penryn is ready for this also but she questions what will it cost them. She has grown very fond of the angel, knowing he can't be with her. But it's hard to ignore the force between them especially after certain moments (wink, wink). And you'll know what moments I'm talking about. Might want to turn a fan on, because it's gonna get hot in here, and I'm not talking about Hell's heat either.
While on this path they are taking, they will have to battle some strong forces and they will have to defeat them if they want to help with the survival of both the Human race and Angels. Penryn discovers something she can do with her "pookie bear" (sword) and they take this very high risk in hopes that it will work and help Raffe become who and what he is entitled too. Risks of course don't come without casualties and heartache. One thing you can count on, is the fighter Penryn is and she will stop at nothing to succeed. Plus with a sister like her's, you can't ask for a better sidekick.
I can't give anymore away without spoiling the book that will rock you. Get ready for a ride, once you get started you will not stop till the end. And baby, what an end Susan gave us. Thank you Susan for creating such an amazing-chaotic story that I will always remember and smile when I do.
---
Im excited to share with you all a great giveaway. Thanks to Skyscape we have all three book in the series to giveaway to one lucky reader. They are all finished paperback copies, never been read before. I love this series and I can't wait for someone else to fall in love with it as much as I did.
Giveaway:
You win:
Angelfall, World After
and
End of Days
Open to US/CA residents
You win all 3 books: Angelfall, World After and End of Days!
---
Susan Ee will be participating in a few YA author twitter chats to celebrate
END OF DAYS
release day today. Check out the schedule below!
Tuesday, May 12th
Scott Westerfeld @scottwesterfield (Leviathan, Uglies, Afterworlds)
Becca Fitzpatrick @becfitzpatrick (Hush, Hush, Black Ice)
Susan Ee @Susan_Ee (Angelfall, World After, End of Days)
Kami Garcia @KamiGarcia (Beautiful Creatures, Unbreakable)
Lissa Price @Lissa_Price (Starters, Enders)
Susan Ee @Susan_Ee (Angelfall, World After, End of Days)
Join and follow along using #RT15YAChat. The topic is "All the Feels! YA and Emotions." Ask questions, throw Twitter confetti in the air, dance in your kitchen, and chat with fellow readers.
These authors will all be at the RT Convention in Dallas this week. If you're in the area, please check out YA: Welcome to the Dark Side panel

,

YA Family Feud trivia mash-up

and RT Teen Day signing.