---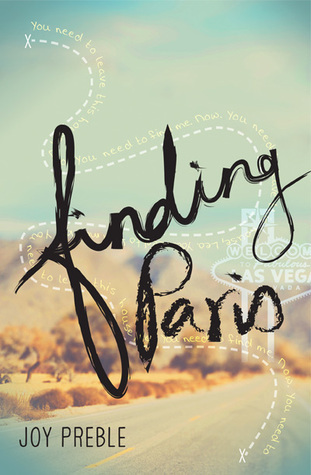 Finding Paris
Author:
Joy Preble
Reading Level: Young Adult
Genre: Contemporary
Released: April 21 2015
Review Source: Harperteen
"An intricate guessing game of sisterly devotion, romance, and quiet desperation." School Library Journal

"Fast-paced with intriguing teen characters, a budding relationship and a bit of mystery—curiosity will keep those pages turning." Kirkus Reviews

An evocative and compelling story of two sisters who would do anything for each other—perfect for fans of Thirteen Reasons Why and Speak. Joy Preble's stirring new novel explores the lengths to which sisters go to protect each other, and the winding road that brings two strangers into each other's lives.

Sisters Leo and Paris Hollings have only ever had each other to rely on. They can't trust their mother, who hops from city to city and from guy to guy, or their gambler stepfather, who's moved them all to Las Vegas. It's just the two of them: Paris, who's always been the dreamer, and Leo, who has a real future in mind—going to Stanford, becoming a doctor, falling in love. But Leo isn't going anywhere right now, except driving around Vegas all night with her sister.

Until Paris ditches Leo at the Heartbreak Hotel Diner, where moments before they had been talking with physics student Max Sullivan. Outside, Leo finds a cryptic note from Paris—a clue. Is it some kind of game? Where is Paris, and why has she disappeared? When Leo reluctantly accepts Max's offer of help, the two find themselves following a string of clues through Vegas and beyond. But the search for the truth is not a straight line. And neither is the path to secrets Leo and Max hold inside.
A book about the bond between sisters. Leo and Paris are as close as sisters can get, and they will do anything and everything for each other. When Paris goes missing Leo goes on a road trip with Max to go and find Paris. Unsure of where Paris is leading her she realizes, maybe everyone has secrets that they are hiding.
Whoa. There are really no words for this book. I don't want to give things away, so the only thing I can really say is Whoa.
I feel that this is what I wish Paper Towns was like. I had high hopes for Paper Towns so I felt that it was a little bit of a letdown. Whereas this road trip book was completely what I would've wanted from Paper Towns. It has the romance in it, it has the gripping story, and it has some twists and turns. You think you've figured out the twists and turns, but then they come right at you and it's not what you were expecting!