---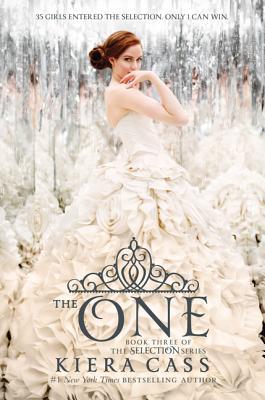 The One
The Selection #3
Author:
Keira Cass
Reading Level: Young Adult
Genre: Dystopia
Release Date: May 6th 2014
Review Source: HarperCollins UK| Netgalley
The time has come for one winner to be crowned.

When she was chosen to compete in the Selection, America never dreamed she would find herself anywhere close to the crown—or to Prince Maxon's heart. But as the end of the competition approaches, and the threats outside the palace walls grow more vicious, America realizes just how much she stands to lose—and how hard she'll have to fight for the future she wants.
This is the book guys. The epic conclusion. The one with the fabulous cover. The one I've been dying to read since I started the series. The one I
LOVED
.
This book made me cry about 3 times. Some were happy tears and some weren't. Let's just say some every good things happened (AKA Maxon and America) and some sad things. Some really sad things which came at the most unexpected times. I'm telling myself that everything happened for a reason and they contributed to the great ending, but darn, I really wish they hadn't really happened.
One of my favourite parts of this book was the character growths of the remaining Selected. Especially Celeste. Throughout the whole series the only emotion I've had towards her was distaste and The One completely changed my opinion of her. She would definitely win the award for "Most Improved". So much evolved in this book that it was refreshing-- after two books of constant steps back--and it was a well needed change.
Despite how much trouble (or maybe it was stubborness) the characters had when it coming to admitting their feelings with the words "I love you", the romance was still cute. The words Maxon spoke to America made me swoon and goofy grin.
"I'm going to love you more than any man has ever loved a woman, more than you ever dreamed you could be loved. I promise you that."
"I want everything with you, America. I want the holidays and the birthdays, the busy seasons and the lazy weekends. I want peanut butter fingerprints on my desk. I want inside jokes and fights and everything. I want a life with you."
See? Doesn't Maxon just completely just melt your heart? Because he melts mine. It did feel like there was a bit of an open end, like there was still a little bit more to be explored, but overall this book made me swoon, gasp, cry and laugh and I wouldn't have it any other way. It was the perfect conclusion to Maxon and America's story.