---
We are thrilled to be 1 of 44 sites taking part in this fantastic event to celebrate a legend and his books by each one of us sharing a book from Dr. Seuss's collection.
Here at Once Upon a Twilight, we chose the 1960 classic everyone loves and knows:
One Fish Two Fish Red Fish Blue Fish
But that's not the book that is causing this celebration. Today we celebrate the release of a never been released picture book written by the legend himself.
What Pet Should I Get?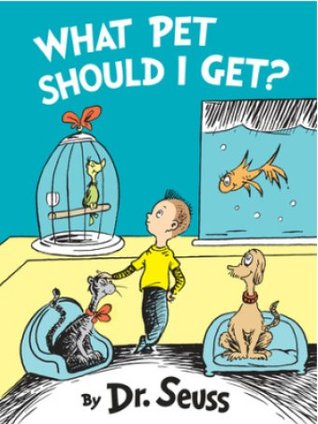 ABOUT WHAT PET SHOULD I GET?
In the Fall of 2013, an original manuscript with accompanying sketches by Dr. Seuss, aka Ted Geisel, was discovered in the La Jolla, California home of the late beloved children's author. That complete manuscript was for the picture book,
WHAT PET SHOULD I GET?
, and will be published by Random House Children's Books on July 28, 2015. It is the first original new Dr. Seuss book since the publication of the last book of Dr. Seuss's career,
Oh, the Places You'll Go!
in 1990.
WHAT PET SHOULD I GET?
captures the excitement of a classic childhood moment—choosing a pet—and features the brother and sister characters that Dr. Seuss drew in
One Fish Two Fish Red Fish Blue Fish
.
---
Here is our review of
One Fish Two Fish Red Fish Blue Fish
.
Published: March 12th 1960
"From there to here, from here to there, funny things are everywhere" . . . So begins this classic Beginner Book by Dr. Seuss. Beginning with just five fish and continuing into flights of fancy, One Fish Two Fish Red Fish Blue Fish celebrates how much fun imagination can be. From the can-opening Zans to the boxing Gox to the winking Yink who drinks pink ink, the silly rhymes and colorful cast of characters create an entertaining approach to reading that will have every child giggling from morning to night: "Today is gone. Today was fun. Tomorrow is another one."



Originally created by Dr. Seuss, Beginner Books encourage children to read all by themselves, with simple words and illustrations that give clues to their meaning.
I was very excited to take part in the Dr. Seuss celebration. I know many of you grew up with these books like myself. You have probably now read them to your children, grandchildren or if you teach to your students. These books never will get get old. They have this magic that no matter how much time has passed they continue to amaze whoever is reading or listening to the story within its pages.
As part of the celebration I was given one of my all-time favorite Dr. Seuss books to review. Many of you are familiar with it and love it just as much as I do. One Fish Two Fish Red Fish Blue Fish will never get old for me. Its been a few year since I read this story since my boys are older now but when I read it again for this celebration, it was like I was 5 years old again or I was cuddled up with my boys when they were babies. It really takes you back to that very happy childhood time, when nothing worried you and all you needed to think about is "What is your favorite color?".
So with all that being said it was nice to revisit with the Wump with just one hump, Nook with a book, Zans that opens cans or Gox that box in socks. The simple illustration with vibrant colors continue to memorize one as you read, doesn't matter if your 5 or 75. Everyone should have in their book collection this Dr. Seuss classic along with the others and of course the whole reason we are celebrating, What Pet Should I Get.
---
Theodor "Seuss" Geisel is one of the most beloved children's book authors of all time. His long list of awards includes Caldecott Honors for McElligot's Pool, If I Ran the Zoo, and Bartholomew and the Oobleck, the Pulitzer Prize, and eight honorary doctorates. Works based on his original stories have won three Oscars, three Emmys, three Grammys and a Peabody. Geisel wrote and illustrated 45 books during his lifetime, and his books have sold more than 650 million copies worldwide. Though Theodor Geisel died on September 24, 1991, Dr. Seuss lives on, inspiring generations of children of all ages to explore the joys of reading. For more information about Dr. Seuss and his works, visit Seussville.com.
Dr. Seuss
---
Dr. Seuss 44 Classic Book Celebratory Tour
And what's a celebration without a giveaway. Thanks to Random House Children's Books each site will be giving away a copy of "
What Pet Should I Get
?" to a reader in the US.