---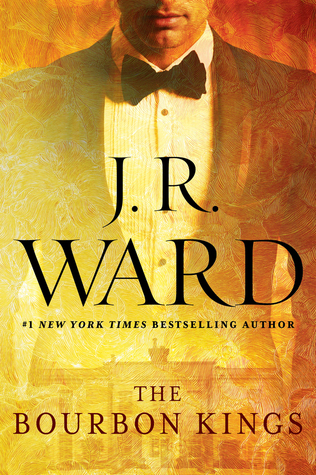 The Bourbon Kings
The Bourbon Kings #1
Author:
J. R. Ward
Reading Level: Adult Fiction
Genre: Romance
Release Date: July 28th 2015
Review Source: NAL
The #1 New York Times bestselling author of the Black Dagger Brotherhood delivers the first novel in an enthralling new series set amid the shifting dynamics of a Southern family defined by wealth and privilege—and compromised by secrets, deceit, and scandal....

For generations, the Bradford family has worn the mantle of kings of the bourbon capital of the world. Their sustained wealth has afforded them prestige and privilege—as well as a hard-won division of class on their sprawling estate, Easterly. Upstairs, a dynasty that by all appearances plays by the rules of good fortune and good taste. Downstairs, the staff who work tirelessly to maintain the impeccable Bradford facade. And never the twain shall meet.

For Lizzie King, Easterly's head gardener, crossing that divide nearly ruined her life. Falling in love with Tulane, the prodigal son of the bourbon dynasty, was nothing that she intended or wanted—and their bitter breakup only served to prove her instincts were right. Now, after two years of staying away, Tulane is finally coming home again, and he is bringing the past with him. No one will be left unmarked: not Tulane's beautiful and ruthless wife; not his older brother, whose bitterness and bad blood know no bounds; and especially not the ironfisted Bradford patriarch, a man with few morals, fewer scruples, and many, many terrible secrets.

As family tensions—professional and intimately private—ignite, Easterly and all its inhabitants are thrown into the grips of an irrevocable transformation, and only the cunning will survive.
I have been following this book since the first second it pop up on our radars that it was coming out. That cover right there is pretty sexy and the model isn't even showing some body part. Kudos to the design team on that. So when The Bourbon Kings arrived at my door step, I think I saw double rainbows in the sky. Fans of the WARDen will not be disappointed even if the Brothers (Black Dagger Brotherhood series) are not related to this series.
First Ward gave us the Brothers, then she gave us the Fallen but now we have the Bourbon Kings. If you love stories about family drama, betrayal, romance and deceit, this is the series to read starting with The Bourbon Kings. This book falls nothing short of any of those genres I just mentioned. I had no idea that the Bourbon world could be so shady, then add the prestige Derby lifestyle to the mix and you got yourself one insane mixture of drama.
The Bourbon Kings is written with the same style we appreciate from Ward with all that snark we get sucked in with, but here it's fitted for this type of novel and it works. I was hooked few chapters in, needing to know what was going to happen next and who else would pop up dead. I believe that fans of Ward will enjoy reading this book, even if this type of background is usually not something you care to read.
When has Ward ever let us down with her books? And if your not familiar with J.R. Ward's books, its past your time to correct that. Pick up your copy of The Bourbon Kings and dive into the world of these southern families and their Bourbon.
---
"The Bourbon Kings are just like my Black Dagger Brotherhood vampires, flawed heroes for strong women who live and love in a vivid, ever-changing world of passion and excitement. Readers can expect the same big emotions, epic storylines and soul-deep love stories in these books — as well as those signature, OMG, I have to know what happens NEXT! kind of endings." - J. R. Ward (official press release)
The books have already been optioned for television by Endemol Studios, the entertainment and production company behind the international hit TV series
Big Brother, Deal or No Deal, Wipeout, Hell On Wheels, The Fall
and
Peaky Blinders
, among others.