---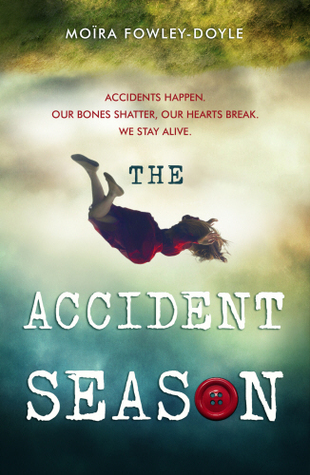 The Accident Season
Author: Moïra Fowley-Doyle
Reading Level: Young Adult
Genre: Contemporary
Released: August 18th 2015
Publisher: Corgi Childrens
It's the accident season, the same time every year. Bones break, skin tears, bruises bloom.

The accident season has been part of seventeen-year-old Cara's life for as long as she can remember. Towards the end of October, foreshadowed by the deaths of many relatives before them, Cara's family becomes inexplicably accident-prone. They banish knives to locked drawers, cover sharp table edges with padding, switch off electrical items - but injuries follow wherever they go, and the accident season becomes an ever-growing obsession and fear.

But why are they so cursed? And how can they break free?
---
1. I loved the abandoned house in this story, where did the idea from? Do you have actual pictures of this house?
The ghost house is an amalgamation of a few different houses in and around a small town in the west of Ireland that the setting for The Accident Season is (loosely) based on. There is a big house outside the town that would be the perfect fit if it weren't lived in and well maintained, and there are a few houses in various stages of dereliction that I photographed to use as inspiration. I've attached one here, but I add some periodically (as well as pictures of dilapidated bridges over rivers and other such things) on my Instagram @moirawithatrema
2. What were your biggest challenges in writing The Accident Season?
Probably hoping that I hadn't inadvertently cursed the manuscript when I broke my wrist halfway through revisions!
3. What point in your life did you realize that you wanted to be a writer?
I can't think of a point in my life when I didn't want to be a writer – even when I wanted to be something else too (a ballet dancer, an actress, the person who draws houses on rental brochures…).
4. What has been the toughest criticism given to you as an author? What has been the best compliment?
I'm very lucky to have editors who are not only wonderful at what they do but are also very kind – so their (much needed!) criticism is always tactful. I'm also very lucky to have been given a lot of lovely feedback about the book from reviewers, bloggers and readers. Possibly the best is hearing from people who love and relate to my characters. Although I also spoke a bookseller who also works with survivors of domestic violence and sexual abuse, who told me that he felt that the book dealt with these issues with a lot of sensitivity, which is something I was really happy to hear.
5. The book covers Halloween and costume, can you share with us what was your favorite Halloween costume? Do you have any pictures you can share with us? ;)
I've spent the last ten Halloweens performing with the Rocky Horror Picture Show, so usually I am in a corset and fishnets! Although one Halloween I would love to recreate a costume I wore outside of Halloween several years ago. I worked as an extra on the TV show The Tudors for three seasons and although I was usually dressed as a courtier (in enviably beautiful dresses I dreamed of running away with), one episode I was dressed as a peasant who had died of the plague. The makeup made me jump every time I walked past a mirror. I've attached a picture!
6. Can you share with us your top 5 of the spookiest scary stories you have ever read?
White is for Witching by Helen Oyeyemi is an absolutely beautiful and eerie book with a haunted house, among other things. The Moth Diaries by Rachel Klein is maybe about vampires or maybe about madness. Long Lankin by Lindsay Barraclough has ghosts. This is Not a Test by Courtney Summers and Ashes by Isla J Bick have zombies. All of them are wonderful.
---
Moïra Fowley-Doyle is half-French, half-Irish and lives in Dublin with her husband, their young daughter and their old cat. Moïra's French half likes red wine and dark books in which everybody dies. Her Irish half likes tea and happy endings.
Moïra spent several years at university studying vampires in young adult fiction before concentrating on writing young adult fiction with no vampires in it whatsoever. She wrote her first novel at the age of eight, when she was told that if she wrote a story about spiders she wouldn't be afraid of them any more. Moïra is still afraid of spiders, but has never stopped writing stories.