Welcome to THE DEAD HOUSE MIRROR TOUR! We're thrilled to be the official US blogger! This tour is a bit different, two different blogs (one in the US, one in the UK) will be sharing content the same topic! Hence, the mirror... So our "mirror" is
Book Club Forum/Tales of Yesterday
. They will share Dawn's content from Carly's point of view. So check it out!
---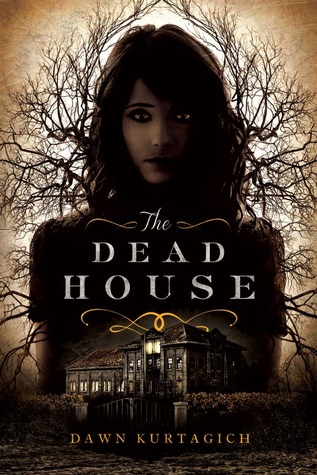 The Dead House
Author: Dawn Kurtagich
Reading Level: Young Adult
Genre: Horror
Released: September 15th 2015
Publisher: Little, Brown Books for Young Readers
Debut author Dawn Kurtagich is dead on in this terrifying psychological thriller!

Over two decades have passed since the fire at Elmbridge High, an inferno that took the lives of three teenagers. Not much was known about the events leading up to the tragedy - only that one student, Carly Johnson, vanished without a trace...

...until a diary is found hidden in the ruins.

But the diary, badly scorched, does not belong to Carly Johnson. It belongs to Kaitlyn Johnson, a girl who shouldn't exist Who was Kaitlyn? Why did she come out only at night? What is her connection to Carly?

The case has been reopened. Police records are being reexamined: psychiatric reports, video footage, text messages, e-mails. And the diary.

The diary that paints a much more sinister version of events than was ever made publicly known.
---
Famous Horror Scenes: What Would KAITLYN Do?
Scene 1: Exorcist pea + headspin
"
During the battle between good and evil, the demon inside Regan shows its power by twisting the child's head in a complete 360. When Karras catches the demon in a lie, its response is to projectile vomit pea soup on the Priest.
" ~ quote
Kaitlyn
:
Oh, God that is hilarious!!! I can completely see why people were freaked out about this whole scene when it came out, but right now it's just so damn funny, I literally can't stop laughing!
Scene 2: Alien's Chest-burster
"
Poor Kane (John Hurt) has had a rough day. Until very recently he's had a horrific spider-lookin' alien parasite stuck to his face -- but things are looking up. Kane's up and around, joking with his shipmates before bedding down for a long trip back to Earth ... and then the coughing starts. At first it's no big deal, but then the poor man is overwhelmed by shocking convulsions, his chest starts to buckle outwards, and then we realize what that horrific spider-lookin' alien parasite was doing on Kane's face: it was laying an egg.
" ~ quote
Kaitlyn
:
Hell. No. An alien stuck to your face, essentially laying its larvae inside of you? Excuse me while I vomit. But the ending result is classic, you can't deny it. Fine and dandy and then BOOM!!! Exploding gut syndrome. Would be an awesome add for Pepto-Bismol.
Scene 3: Carrie's Blood Shower
"
After the girls at school traumatize Carrie in the locker room when she gets "the curse of blood," Sue has a moment of regret and offers up her man as Carrie's boy toy for the evening to make nice. At the prom, Carrie finally relents to Tommy's advances and a magical evening is had by all. That is, until Carrie's nemesis Chris (Nancy Allen) and her meatball of a boyfriend Billy (John Travolta) dump a bucket of pig's blood on her head when Carrie is named prom queen. Much to everyone's surprise, Carrie's been practicing her telekinesis and decides to open up a can of whoop ass on everyone at prom for revenge.
" ~ quote
Kaitlyn
:
This moment is perfect. Fuck yeah, go Carrie! It's about time too. Taking that crap from those airheads was bad enough, without her crazy, controlling, abusive mother on top of it. This is the moment where Carrie accepts her power, her strength and takes her rage out on those who deserve it! It's a shame about the teacher, but she looked down on Carrie, anyway. KILL 'EM ALL CARRIE!!! #Awesome
---
Dawn Kurtagich is a writer of creepy, spooky and psychologically sinister YA fiction, where girls may descend into madness, boys may see monsters in men, and grown-ups may have something to hide. Her debut YA novel, The Dead House, is forthcoming from Hachette in 2015.
By the time she was eighteen, she had been to fifteen schools across two continents. The daughter of a British globe-trotter and single mother, she grew up all over the place, but her formative years were spent in Africa—on a mission, in the bush, in the city and in the desert.
She has been lucky enough to see an elephant stampede at close range, a giraffe tongue at very close range, and she once witnessed the stealing of her (and her friends') underwear by very large, angry baboons. (This will most definitely end up in a book . . . ) While she has quite a few tales to tell about the jumping African baboon spider, she tends to save these for Halloween!