---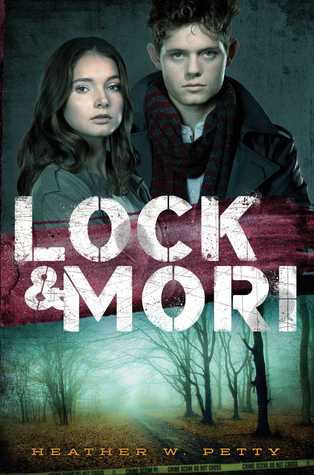 Lock & Mori
Author: Heather W. Petty
Reading Level: Young Adult
Genre: Mystery
Released: September 15th 2015
Publisher: Simon & Schuster Books for Young Readers
In modern-day London, two brilliant high school students, one Sherlock Holmes and a Miss James "Mori" Moriarty, meet. A murder will bring them together. The truth very well might drive them apart.

Before they were mortal enemies, they were much more.

FACT: Someone has been murdered in London's Regent's Park. The police have no leads.

FACT: Miss James "Mori"Moriarty and Sherlock "Lock" Holmes should be hitting the books on a school night. Instead, they are out crashing a crime scene.

FACT: Lock has challenged Mori to solve the case before he does. Challenge accepted.

FACT: Despite agreeing to Lock's one rule--they must share every clue with each other--Mori is keeping secrets.

OBSERVATION: Sometimes you can't trust the people closest to you with matters of the heart. And after this case, Mori may never trust Lock again.
It's been a while for BBC Sherlock Season 4 to premiere and I'm here waiting for the new season. While I wait, I've been on a serious Sherlock high. So a modern day retelling had me waving my hands like no other. Especially when the word "Mori" for Moriarty… is on the cover.
Why YES, I DO MISS YOU!
Lock & Mori follows James "Mori" Moriarty and Sherlock "Lock" Holmes, both brilliant students at their local school. The two students meet during a fire drill and things didn't go as what their teacher planned. Luckily, the two band together to solve a crime. It started as a "game" but as they progress at learning the truth, things were a bit more complicated.
Let's talk about Lock & Mori. They are both amazing characters. Lock & Mori are very clever, unique in their own ways. Sherlock was that awkward kid and he was adorable. Yet they were both different from our beloved characters. Instead of having a big rivalry (which is something I LOVE) these characters have emotional feeling toward each other. It was weird seeing them together and sharing intimate moments. However, I did like them together. After all, I am a fan of Moriarty. Like on the BBC show, Moriarty was fantastic.
The mystery was okay, a bit predictable. Nonetheless, these geeky pair were meant for each other.
---
Heather Petty writes Young Adult novels about grim reapers with English accents, snarky magic shop cashiers, and faery-infested summer camps, all of which are represented by Laurie McLean of Fuse Literary.
Her debut YA mystery, LOCK & MORI, is coming Fall 2015 from Simon & Schuster Books for Young Readers.
Heather is also a granola mom, avid reader, technical writer, and freelance editor. She lives in Reno, Nevada with a Lumberjack, a Fairy-Child, and four cats who she's pretty sure are plotting her demise.
Giveaway open to US Only
a Rafflecopter giveaway