---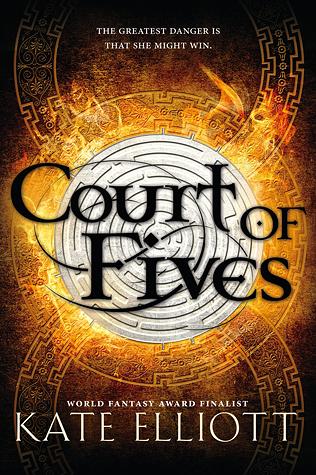 Court of Fives
Court of Fives #1
Author: Kate Elliott
Reading Level: Young Adult
Genre: Fantasy
Released: August 18th 2015
Publisher: Little, Brown Books for Young Readers
In this imaginative escape into an enthralling new world, World Fantasy Award finalist Kate Elliott begins a new trilogy with her debut young adult novel, weaving an epic story of a girl struggling to do what she loves in a society suffocated by rules of class and privilege.

Jessamy's life is a balance between acting like an upper class Patron and dreaming of the freedom of the Commoners. But at night she can be whomever she wants when she sneaks out to train for The Fives, an intricate, multi-level athletic competition that offers a chance for glory to the kingdom's best competitors. Then Jes meets Kalliarkos, and an unlikely friendship between a girl of mixed race and a Patron boy causes heads to turn. When a scheming lord tears Jes's family apart, she'll have to test Kal's loyalty and risk the vengeance of a powerful clan to save her mother and sisters from certain death.
Only a handful of books have made me anger! The kind of anger that makes you wish to become a character and murder the one causing problems.
Yes, I know, I have some serious issues
. But once you read
Court of Fives
, you will understand. This book will have you pulling your hair out. It was certainly an interesting story!
Jessamy reminds me so much of my beloved Arya of
Game of Thrones
. From being ripped apart from her family to her fighting to maintain alive. From not wanting to continue the act of a lady to the desire to be a wild and free Commoner. I didn't just love her bravery… What I loved most about Jessamy is her dedication for her family. This is a girl who doesn't let her "mother's reputation" put her down. Instead, she embraced it and appreciates her for it. Yet there were times I did questioned her actions.
The world of
Court of Fives
is interesting. However, I did feel confused at times. It did made me furious about sexism and regression of women's rights. But the more I read about it, the more questions I had. Then there is the
politics
of this story… Which is something I was dumbfounded by it. But what angered me about this story is one of Jessamy's family member. Actually, couple of her family members. But one in particular made me "
hate
" that individual. I don't want to say who. But if I had the power to become a character, I would murder this person within a blink of an eye. Just thinking about this person….
UGH
!! All I think is
KILLING THIS PERSON
!
Okay, calming down…
Setting aside my anger toward this person, I did enjoy
Court of Fives
. The story was engaging and I had to turn those pages to learn more. It had its flaws - but not the type to hold on to read. I believe any fan of fantasy would enjoy this read. The ending gives you hope. A hope of revenge. With this said, I need the sequel
pronto
!