---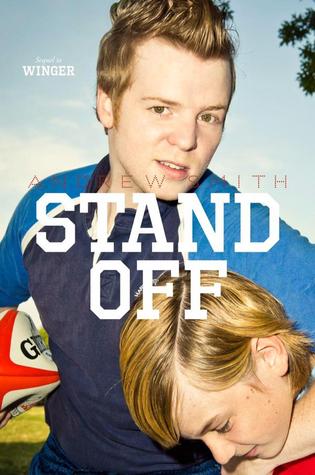 Stand-Off
Winger #2
Author: Andrew Smith
Reading Level: Young Adult
Genre: Contemporary
Released: September 8th 2015
Review Source: Simon & Schuster Books for Young Readers
It's his last year at Pine Mountain, and Ryan Dean should be focused on his future, but instead, he's haunted by his past. His rugby coach expects him to fill the roles once played by his lost friend, Joey, as the rugby team's stand-off and new captain. And somehow he's stuck rooming with twelve-year-old freshman Sam Abernathy, a cooking whiz with extreme claustrophobia and a serious crush on Annie Altman—aka Ryan Dean's girlfriend, for now, anyway.

Equally distressing, Ryan Dean's doodles and drawings don't offer the relief they used to. He's convinced N.A.T.E. (the Next Accidental Terrible Experience) is lurking around every corner—and then he runs into Joey's younger brother Nico, who makes Ryan Dean feel paranoid that he's avoiding him. Will Ryan Dean ever regain his sanity?

From the author of the National Book Award–nominated 100 Sideways Miles, which Kirkus Reviews called "a wickedly witty and offbeat novel," Stand-Off is filled with hand-drawn infographics and illustrations and delivers the same spot-on teen voice and relatable narrative that legions of readers connected with in Winger.
After reading Winger during Thanksgiving of 2014,
Stand Off
officially became one of my most anticipated books of 2015. Ryan Dean is a 15 year old boy who stole my heart. He's a genius with a great sense of humor. I devoured his words, became addicted to his persona and I wanted more of him. I have to be honest, when the cover was revealed for Stand Off, I was worried. Little did I know I would enjoy this book as much as I did with Winger. Silly Leydy, there is no need worry when Andrew Smith is involved. So if you haven't read this duology, I highly recommend that you start soon.
There is a new kid in town, well in school. His name is Sam Abernathy and he is Ryan Dean's nightmare. Poor Ryan Dean gets bombarded and stuck with this kid during his last year of high school. ONLY IT COULD HAPPEN TO YOU, RYAN DEAN!
Not only is he the only 15 year old senior but now he has to advise a 12 year old throughout his last year of high school. And he is not easy to deal with. This kid is claustrophobic and quite annoying. He loves to talk and ask many questions. Worst of all, Ryan Dean thinks Sam is after his girlfriend. Not only is he stuck with Sam but N.A.T.E (the Next Accidental Terrible Experience) is still lurking around. Ryan Dean is about to have the worst high school year experience. How would Ryan Dean survive his last year of high school?
Stand Off
was freaking epic. After all this is what Andrew Smith is best at. Writing epic stories. Yet, I didn't expect to tear up with
Stand Off
. This was a reminder of my love for Ryan Dean. Even though sometimes he makes silly decisions, his flaws is what makes me love him more. Because at the end of the story, Ryan Dean always figure a way out all on his own.
I highly recommend Winger and Stand Off.
Shit
¹, what are you waiting for? GO BUY WINGER & PRE-ORDER STAND OFF
NOW
!
¹ Nope, I didn't say that, just imagined it.