---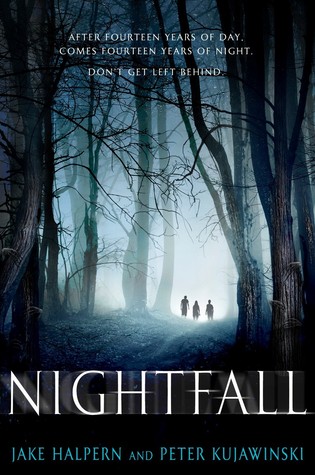 Nightfall
Author: Jake Halpern and Peter Kujawinski
Reading Level: Young Adult
Genre: Dystopia
Released: September 22nd 2015
Publisher: G.P. Putnam's Sons Books for Young Readers
A story where edge-of-your-seat horror meets post-apocalyptic thriller, perfect for fans of Lois Lowry and The Mazerunner

On Marin's island, sunrise doesn't come every twenty-four hours—it comes every twenty-eight years. Now the sun is just a sliver of light on the horizon. The weather is turning cold and the shadows are growing long.

Because sunset triggers the tide to roll out hundreds of miles, the islanders are frantically preparing to sail south, where they will wait out the long Night.

Marin and her twin brother, Kana, help their anxious parents ready the house for departure. Locks must be taken off doors. Furniture must be arranged. Tables must be set. The rituals are puzzling—bizarre, even—but none of the adults in town will discuss why it has to be done this way.

Just as the ships are about to sail, a teenage boy goes missing—the twins' friend Line. Marin and Kana are the only ones who know the truth about where Line's gone, and the only way to rescue him is by doing it themselves. But Night is falling. Their island is changing.

And it may already be too late.
---
Playlist
Marin's playlist
1. Safe and sound by Taylor Swift - Marin would listen to this because it would remind her of what she's fighting for – so that she, Kana and Line will survive. She's fighting to be reunited with the life she should've had.
2. Too young by Sabrina Carpenter - Marin has sort of a crush on Line, but she also feels at times that it's too soon – especially because she needs to fix things with her brother Kana.
3. Team by Lorde - Marin loves the feeling of friends having her back, and knowing that she'll always have people with her. Also, she beaks Kana's trust, and it's important to her to regain it.
4. We'll be the stars, by Sabrina Carpenter - Marin would listen to this especially at the very end of the book - because she wants the feeling of importance, immortality, and friendship that this song really emphasizes.
5. Hey brother by Avicii - Marin would like this because it reminds her of the way things used to be with Kana. She wants him to know she's always there for him.
6. Demons, by Imagine Dragons - Marin knows there are demons within all of us – but she could have never guessed how real this turns out to be.
7. Heroes, by Alesso - Marin would love this song because she really wants to feel like she's needed by her friends. She wants to feel like she's appreciated, and during Nightfall, she feels like everyone is angry with her for different reasons.
8. Secrets, by OneRepublic - Marin would listen to this song because it reminds her of the secrets that have swirled around her from the very start of the book.
9. Ordinary Human, also by OneRepublic - There's one line in the song that goes, "but I'll be an ordinary human, before the sun goes down today" that I think really describes how Marin feels during the Night. It describes how Marin just wants to be a girl who does normal things. She's just an "ordinary human", but she's stuck on an island with no one but Line, Kana, and the evil that comes out in the dark.
10. The Other Side of Me, by Celia Rose – my singer/songwriter wife, Celia Rose, wrote and recorded this song inspired by Marin. I think of Marin whenever I hear this song – it's especially for those moments in the book when Marin is struggling, but knows how fiercely she loves her brother and Line. http://www.celiarosemusic.com/nightfall
Marin's playlist
1. Out of the Woods by Taylor Swift: The title screams it all! Nightfall focuses on a creepy island where night falls... and stays for many years. The mood of the lyrics describe Marin thoroughly—she's trying to escape all of the madness that everyone knows will come, but she ends up being stuck with two others, trying to get "in the clear."
2. Immortals by Fall Out Boy: This definitely seems like something Marin would listen to. It's hard-rock, punk and all about people who try to manipulating humans, making us something that we don't want to be, just as Nightfall is changing her.
3. Hallelujah by Panic! at the Disco: Marin sees mistakes in everyone, easily, and constantly blames herself for staying on the island alongside Line and Kana. But then again, she has to move on and see the good in what they have left.
4. Best Friend by Foster the People: Marin's an edgy, kick-butt teenager who is more than willing to stick it to a few adults. She would listen to some indie-pop like this song, and it's all about friendship as well: Line, Kana and hers.
5. Just Desserts by Charli XCX and Marina and the Diamonds: Marin does have a girly side – hard as it may be to believe. I imagine this song on her playlist, which would probably leave readers questioning if there's a real message to it: Is it about Line?
---
Jake Halpern is an author, journalist, and radio producer. His first book, Braving Home (2003), was a main selection for the Book of the Month Club by Bill Bryson and was one of Library Journal's "Best Books of the Year." His next book, Fame Junkies (2007), was the basis for an original series on NPR's All Things Considered and portions of the book were published in both the New Yorker and in Entertainment Weekly. Jake's most recent nonfiction book, Bad Paper (FSG), was excerpted as the New York Times Magazine and it was chosen as an Amazon "Book of the Year." Jake's debut work of fiction, a young adult trilogy, Dormia, has been hailed by the American Library Association's Booklist as a worthy heir to the Harry Potter series. In September of 2014, Jake signed a two book deal with Putnam / Penguin for two more young adult novels. As a journalist, Jake has written for The New York Times Magazine, The New Yorker, The Atlantic Monthly, The Wall Street Journal, GQ, Sports Illustrated, The New Republic, Slate, Smithsonian, Entertainment Weekly, Outside, New York Magazine, and other publications. In the realm of radio, Jake is a contributor to NPR's All Things Considered and This American Life. Jake's hour-long radio story, "Switched at Birth," is on This American Life's "short list" as one of its top eight shows of all time. One of Jake's stories is the basis for a new movie being produced by 20th Century Fox and Heyday Films (which made the Harry Potter movies). Last, but not least, Jake is a fellow of Morse College at Yale University, where he teaches a class on journalism. He recently returned from India where he was visiting as a Fulbright Scholar.
Peter Kujawinski is an author and diplomat, currently serving as US Consul General for Alberta, Saskatchewan and the Northwest Territories. His next book, Nightfall, will be released this September by Penguin Books for Young Readers. He co-wrote the Dormia series with Jake Halpern and has written for The New York Times.
Follow the tour:
The Passionate Bookworms – 25 Random Things - 9/23
Lili's Reflections – interview - 9/24
The Young Folks – review & giveaway – 9/25
Readers in Wonderland – Book Playlist #2 - 9/28
The Book Cellar – interview - 9/29
The Book Smugglers – review – 9/30
Winterhaven Books – interview - 10/1
A Reader Under the Sea – review & giveaway – 10/2