---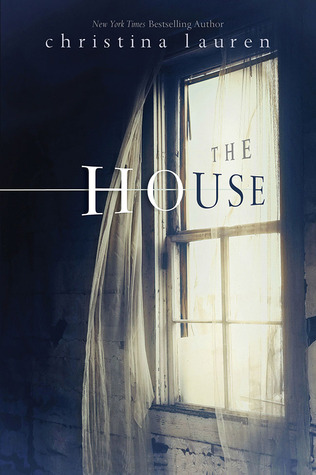 The House
Author:
Christina Lauren
Reading Level: Young Adult
Genre: Horror
Released: October 6th 2015
Review Source: Simon and Schuster Books for Young Readers | Edelweiss
Gavin tells Delilah he's hers—completely—but whatever lives inside that house with him disagrees.

After seven years tucked away at an East coast boarding school, Delilah Blue returns to her small Kansas hometown to find that not much has changed. Her parents are still uptight and disinterested, her bedroom is exactly the way she left it, and the outcast Gavin Timothy still looks like he's crawled out of one of her dark, twisted drawings.

Delilah is instantly smitten.

Gavin has always lived in the strange house: an odd building isolated in a stand of trees where the town gives in to mild wilderness. The house is an irresistible lure for Delilah, but the tall fence surrounding it exists for good reason, and Gavin urges Delilah to be careful. Whatever lives with him there isn't human, and isn't afraid of hurting her to keep her away.
The House
is odd, scary to most with its dark tall gates, patchwork style, and looming trees; but Delilah Blue wasn't scared she was intrigued, curious about the house that seemed to thrive. She was also curious about the boy that lived inside, Gavin Timothy, who incidentally was part of the reason she was away at boarding school for seven years. Delilah Blue was sent away after punching some kids that were picking on Gavin, she had a crush on him then and it still seemed to be ever present to this day. But Gavin isn't like most teenagers his age, he keeps to himself, he wears dark clothes, he's the boy you bring home to scare your parents, and his home life is definitely not like anyone else's.
"What do you want from me, Delilah?" "I want to be the only girl you look at."
Gavin warns Delilah that his house isn't the same as others, his life being brought up is different than most, and she should tread lightly, but that only intrigues her more, she doesn't mind the oddness, she embraces it. Delilah loves scary movies, gore, and anything down right bloody, so when she meets House, she thrives, she's excited, until she says the wrong thing.
"She was like a firecracker standing too close to a match: all potential energy, still wrapped up so neatly. He wanted to watch her explode. Hell, he was the match. He wanted to make her explode."
The House blends together the horror, suspense, and romance perfectly. I feared the entire time I was reading this how everything was going to play out and I didn't have hope for much or at least a HEA. I was certainly freaking out a lot myself while reading a couple of chapters, but I feel like they exploited one of my fears. While I thought it was a slow build (or I was just exhausted from working overnights) I did get sucked into the story telling, and I found myself more and more intrigued with the house and how it originated more than the characters (I love you Gavin and Delilah, but you can't compete with House).
"Delilah was his sun, and he'd smiled more because of her in the last few months than he had in his entire life."
SO if you're looking for the perfect spooky October read this book is your go to book. I mean seriously, the cover is spooky enough, just imagine the story behind the cover. Christina Lauren never disappoint with their adult series and have yet to do that with their YA books either, The House is not one you want to miss out on.