---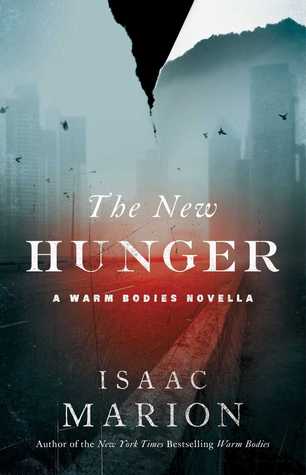 The New Hunger
A Warm Bodies Novella
Written by Isaac Marion
Release Date: October 6th 2015
Publisher: Atria/Emily Bestler Books
The must-read prequel to the "strange and unexpected" (Audrey Niffenegger) and "highly original" (Seattle Times) zombie love story Warm Bodies—the New York Times bestseller and inspiration for the hit film—from the critically acclaimed author whose clever debut turned the classic horror story on its head.

The end of the world didn't happen overnight.

After years of societal breakdowns, wars and quakes and rising tides, humanity was already near the edge. Then came a final blow no one could have expected: all the world's corpses rising up to make more.

Born into this bleak and bloody landscape, twelve-year-old Julie struggles to hold on to hope as she and her parents drive across the wastelands of America, a nightmarish road trip in search of a new home.

Hungry, lost, and scared, sixteen-year-old Nora finds herself her brother's sole guardian after her parents abandon them in the not-quite-empty ruins of Seattle.

And in the darkness of a forest, a dead man opens his eyes. Who is he? What is he? With no clues beyond a red tie and the letter "R," he must unravel the grim mystery of his existence—right after he learns how to think, how to walk, and how to satisfy the monster howling in his belly. The New Hunger is a glimpse of the past and a path to an astonishing future…
---
Zombies, we all know about them and nowadays with all the different books, movies and TV shows that have depicted a Zombie, we are confused. Why confused, well because what we originally grew up thinking was a "Zombie", has evolved with the times. Now a Zombie can be faster than a human (World War Z) or even sexy like in the
Warm Bodies
film played by Nicholas Hoult. The concept is still an undead creature but Zombies are not your grandmother's zombies anymore.
Walking Dead
fans will probably argue and say the Zombies in the show are a true form of a Zombie and probably the majority of people will agree. Just imagine what a Zombie will look like in another 10 years. Look how Vampires have involved too.
So here at OUaT, a few of us shared a picture that we took from the world wide web of what we considered to be a Zombie.
What about you? Share with us what your ideal Zombie looks like in the comment section below.
Here is what OUaT's Shannon H. shared:
Basically, I think
The Walking Dead
hit the nail on the head with zombies. Slow and forced movements, the decaying of their discoloured skin with each day that passes because they are, in fact, dead. The moaning and groaning because that's all they know. My true interpretation of zombies are vicious and animalistic with no chance of redemption. I like my zombies very much on the horror side of the scale!
Here is a picture that OUaT's Bri shared:
Bri is on the same page as Shannon H.

And here is what I (Yara) believe to be a true form of a Zombie:
Yes, I did choose the Zombies from Michael Jackson's Thriller video. This was my first experience on what a Zombie was, so needless to say what I saw as a child has stuck with me now as an adult. Plus they danced!!! LOL! (I don't like gory anything)

Thanks for reading along, remember to leave us a comment with what is your ideal type of Zombie. Now here is the perk that comes with this post.
We are giving away 2 copies of Isaac Marion's soon to be released novella The New Hunger: A Warm Bodies Novella. Perfect timing, just before Halloween. This giveaway is for US residents only. The giveaway is provided by Atria books.