---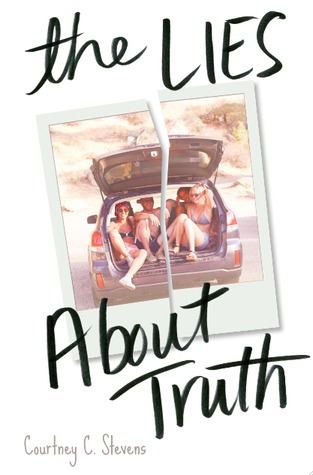 The Lies About Truth
Author:
Courtney C. Stevens
Reading Level: Young Adult
Genre: Realistic Fiction
Released: November 3 2015
Review Source: HarperTeen
Sadie Kingston, is a girl living in the aftermath. A year after surviving a car accident that killed her friend Trent and left her body and face scarred, she can't move forward. The only person who seems to understand her is Trent's brother, Max.

As Sadie begins to fall for Max, she's unsure if she is truly healed enough to be with him — even if Max is able to look at her scars and not shy away. But when the truth about the accident and subsequent events comes to light, Sadie has to decide if she can embrace the future or if she'll always be trapped in the past.
I got to admit that when I was about half way through this book, it started to feel like it was dragging a bit because it sort of felt a little repetitive, despite the fact that I love the narrative for how funny and witty it is. But that's me and it could be because I am a therapist, and this book is VERY psychological and it was frustrating me that Sadie (the main character and narrator of the story) wasn't getting past some issues that don't feel that important to me. If you read it with a non-clinical eye, it may not seem dragging, but from the moment I began reading it, I noticed all the psychological issues with the main character and knew what she had to do to get past them, yet wasn't.
Sadie is one of the two survivors of a horrible car crash that killed the driver –her best friend Trent –and left her scared physically and psychologically. The crash happened a year before the story begins and the author does an amazing job to explain not only how the wreckage happened, but also what's happened since to Sadie and her friends. See, Sadie is one fifth of her group of friends: Trent, Max (Trent's brother), Gray (Sadie's ex-boyfriend), and Gina (Sadie's BFF since kindergarten). But after the crash, she completely withdrew from the world (and developed agoraphobia and post-traumatic stress disorder, even though it's not mentioned in the book) and even more so from her friends. She only spoke and confided in Max, who she ends up falling in love with.
It wasn't until the end of the book that I went from "eh, it's ok" to "Oh my God, I love this story!" And the reason for that being is because the story begins with Sadie being completely agoraphobic and unable to accept the fact that she has scars all over her body (she flew out of the window when the car crashed, which naturally left quite a few scars, and she was convinced the world only saw her scars and not her anymore), but with therapy and the amazing support given to her by her parents and Max, she is able to begin loving herself once more –and forgiving her friends for something they did to her. It turns out to be a beautiful story that would help anyone going through a similar situation realize that there are more wonderful things than bad in life, and that physical scars are just that, and that what counts is what's on the inside.