Beyond thrilled to be a part of the November 9 blog tour for CoHo's latest novel.
OUaT has an exclusive interview with Colleen Hoover, plus review and let's not forget a giveaway.
---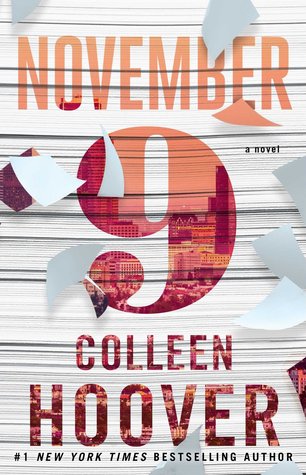 November 9
Author: Colleen Hoover
Reading Level: New Adult
Genres: Contemporary Romance
Release Date: November 10th 2015
Publisher: Atria Books
Beloved #1 New York Times bestselling author Colleen Hoover returns with an unforgettable love story between a writer and his unexpected muse.

Fallon meets Ben, an aspiring novelist, the day before her scheduled cross-country move. Their untimely attraction leads them to spend Fallon's last day in L.A. together, and her eventful life becomes the creative inspiration Ben has always sought for his novel. Over time and amidst the various relationships and tribulations of their own separate lives, they continue to meet on the same date every year. Until one day Fallon becomes unsure if Ben has been telling her the truth or fabricating a perfect reality for the sake of the ultimate plot twist.

Can Ben's relationship with Fallon—and simultaneously his novel—be considered a love story if it ends in heartbreak?
It's Colleen Hoover, did you expect anything less than a 5 star rating.
November 9
blew me out of the water, what a brilliant storyline Hoover wrote inside the pages of this book. I have never read a book that even comes close to the idea and I've read many books throughout the years.
This book deserves a:
And we just need to:
Those GIFs pretty much sum up what I feel about
November 9
. What a fantastic read, I can sit here all day talking about it and actually I pretty much have with some people already. I have shared my love for
November 9
at the ballpark, at the grocery store or even at roller derby practice. If you read, then
November 9
should be on your To Be Read list.
I will not give anymore detail away. You can catch a more in depth glimpse at November 9 in my Q&A with Hoover. You will love every single answer she had to all my questions. Seriously CoHo for President!
Visit
www.November9.com
for teasers, tour dates and more.
---
Colleen Hoover is the #1 New York Times bestselling author of Slammed, This Girl, Point of Retreat, Hopeless, Losing Hope, Finding Cinderella, Maybe Someday, Ugly Love, Maybe Not, and Confess. She lives in Texas with her husband and their three boys.
Here is my Q&A with Colleen Hoover, enjoy!!!
OUaT: The most obvious question, why November 9? Why that specific date?
I knew I wanted to write a book with the date as the title. I went through several in my head, looked at me schedule and figured Fall would be the best time to release and then decided on November 9 because I think it has a ring to it. I wish I had a better answer, but it really was just a random date. However, I had no idea until I was almost finished with the book that the poet I quoted a lot (Dylan Thomas) died on November 9th. So maybe it was fate!
OUaT: After I read November 9, I sat quietly trying to remember what I could have done the year before on the exact date…. you can say I had no luck. How hard was it to write the future November 9 scenarios?
The thing that's so different about this book from the others I've written is that we follow the characters through several years of their lives. And we only see them on one day each year. My main concern was that readers wouldn't buy into their connection every year without seeing more of their personalities outside of each other. It was difficult to write a believable connection when overall, the characters spend so little time together. But I'm very happy with the outcome. It was definitely difficult but I think I accomplished it.
OUaT: Besides celebrating the 1 year anniversary of November 9 in 2016, where and what do you see yourself having accomplished by that date? And what about November 9 in 10 years?
You know, I've never set a lot of goals for myself. Finish college and be happy were pretty much the two things I set out to do with my life. With everything that's happened in the last four years, I feel like the rest of my life is just icing on the cake. So next year and even ten years from now, the only thing I hope to have accomplished is that my three boys are happy with their own lives. My children are by far my greatest accomplishment. They respect others, they're nice, they're grateful. I'd take that over a bestseller any day. J
OUaT: If you put yourself in Fallon's shoes, do you believe you would have had the same outcome as Fallon?
I do, honestly. I can't say too much without giving away the plot, but I supported and agreed with her final decision. There have been a lot of times in previous books that I didn't necessarily agree with the personal decision of a character, but that's one of my favorite things about writing. I have a little control over the story, but ultimately the characters become their own people—people I disagree with and get irritated with. It's insane.
OUaT: Every one of us here at Once Upon a Twilight have one simple question for you, do you enjoy making us and your readers cry (could be happy or sad tears)?
Sadly, I do. I'm not a crier, nor am I an emotional person. But for some reason, my ultimate goal is to make people experience a range of emotions when they read my book. I want them to be happy, funny, sad and devastating. When a reader says they didn't cry, a little piece of my soul gets a wrinkle in it because I feel like I failed.
OUaT: Is there anything now that the book is about to be released that you wished you would have taken out or put in, or something along those lines?
I'm a huge fan of X Ambassadors, the band. I listened to their song UNSTEADY on repeat while reading the book. I was working with them to get their lyrics put in the book. They agreed and were super nice about it, but silly me waited until the last minute to ask, so the paperwork couldn't be finalized by final printing. I was sad about that, but I found a spot to give them a shoutout in one of the scenes, so that was good.
Oh, another creepy coincidence about this: After I finished writing the book I wanted to take my oldest son to see X Ambassadors for his birthday. The only time the band is playing in Texas near us is…you guessed it…November 9th.

Coincidence? Or fate?
OUaT: Your books have been published in several languages and sold to different countries, is there a country that has yet to buy the rights, that you would love your books to reach?
I wish I knew the answer to this. I'm a very disorganized person so I have no ideas which countries I've sold to and which ones I haven't. It's like Christmas when I get a package in the mail from a foreign publisher.
OUaT: Changing the tune a little now, can you tell us how The Bookworm Box is doing and the latest information you might want to share with your readers? new sign ups?
It's doing fabulous! We're almost at $200,000 donated since our startup in March. We also have a signing manager now who is starting to set up signings at the store for 2016, so authors should contact her at Brenda@thebookwormbox.com if they are interested.
OUaT: You recently shared you were having a tough time with writer's block, how are you doing with that (p.s. I LOVED the story you shared in that post)?
I haven't dealt with it. I went to a hotel earlier this week. Checked in on Monday and got the room until Thursday, but I ended up leaving Tuesday morning because I hadn't written a single thing. But I'm not stressing about it. I think it's my mind and bodies way of telling me to slow down and take a much-needed break. If I learned anything in 2015, it's that I need to slow down and enjoy this a little more. I keep worrying that if I take a break or even one day off, it'll all end. I'm learning that I'm allowed to watch a little TV every now and then without feeling guilty. I decided to take it easy and focus on this release and the upcoming tour and worry about writing when I get home.
OUaT: What is your favorite discovery as of late?
I think I just answered this in the above question. That I realized it's okay to slow down and take a day off.
OUaT: What's a super random factoid about you?
I grew up on a dairy farm and milked cows every weekend. That may not be random enough.
OUaT: If a reader loves to listen to music while they read, which song(s) would you recommend to play while they read November 9?
Every song ever written by X Ambassadors. Starting with UNSTEADY and LITOST.
"
November 9
is yet another breathtaking novel by Colleen Hoover that's full of
blushing, gushing, and heartache. I loved every page and breathed in every beautiful word."
—Anna Todd, Author of the
After
series
---
I hope you all enjoyed Hoover's Q&A, I know I did. To celebrate the release of
November 9
, Atria books is gifting one of our readers a finished copy. So all you have to do is enter below in the Rafflecopter (giveaway is not international, only US and CA).