---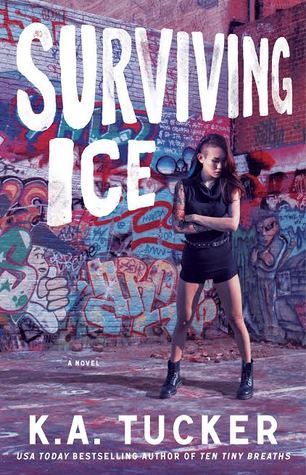 Surviving Ice
Burying Water #4
Author: K.A. Tucker
Reading Level: New Adult
Genre: Contemporary Romance
Released: October 27th 2015
Publisher: Atria Books
The USA TODAY bestselling author of the Ten Tiny Breaths series and Burying Water—which Kirkus Reviews called "a sexy, romantic, gangster-tinged page-turner"—returns with a new novel packed with romance, plot twists, and psychological suspense.

Ivy, a talented tattoo artist who spent the early part of her twenties on the move, is finally looking for a place to call home. She thinks she might have found it in San Francisco, but all that changes when she witnesses a terrible crime. She's ready to pack up her things yet again, when a random encounter with a stranger keeps her in the city, giving her reason to stay after all.

That is, until Ivy discovers that their encounter wasn't random. Not at all…
Excerpt
It's just a regular ringtone. For me, though, it's the wail of a war siren, and I'm immediately alert. There is only one person who has this number, and I didn't expect him to use it again so soon.
The tile is cool against my bare feet as I roll out of bed. I collect the phone from the nightstand with one fluid movement, unhindered by sheets or the morning sluggishness that an average person might face. Stepping through the propped-open patio doors and onto the balcony, I answer with a low, curt "Yeah." The sky is just beginning to lighten over the quiet bay. Dozens of boats sit moored below, their passengers lulled into deep sleep by the ocean air and rhythmic waves. I'm high enough up that I'm not likely to offend anyone with my lack of clothing, especially at this hour. Not that I'm truly concerned by it.
"Ice."
The code name is a sharp contrast to the warm breeze skating across my bare skin. My adrenaline begins to spike, all the same. Hearing it means that I will be forced to leave this haven soon. Sooner than I had hoped.
"How is recovery going?"
I instinctively peer down at the angry red scar on the outside of my thigh, where a bullet drilled into my flesh and muscle just three weeks ago, outside of Kabul. I nearly bled out before I made it to the doc. He patched me up on a makeshift operating table, buried deep in a maze of rooms, and charged me a hefty price.
"Like new," I lie.
"Good." Bentley's voice is rich and smooth, a welcome sound in a sea of strangers. "Where are you now?"
I peer out over the beautiful vista of crystal blue water and whitewashed stone buildings, the volcanic rock cliffs in the distance, reluctant to divulge my location. I sank a good chunk of my last payout on renting this one-bedroom villa for the month. It's my private sanctuary, where I can revel in anonymity and peace for a while, before finding somewhere else to drift to.
Bentley has never asked before.
But he also has the technical capabilities to trace this call. If he really wants to find out, then he will. In fact, the second I picked up, he probably already had his answer. "Where do I need to be?" I say instead.
"San Francisco."
---
Born in small-town Ontario, Kathleen published her first book at the age of six with the help of her elementary school librarian and a box of crayons. She is a voracious reader and the farthest thing from a genre-snob, loving everything from High Fantasy to Chick Lit. Kathleen currently resides in a quaint small town outside of Toronto with her husband, two beautiful girls, and an exhausting brood of four-legged creatures.