Welcome to the last stop on Where Futures End tour for Parker Peevyhouse. This tour is hosted by
PenguinTeen
.
---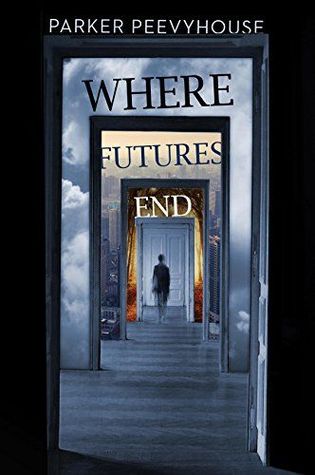 Where Futures End
Author:
Parker Peevyhouse
Reading Level: Young Adult
Genre: Science Fiction
Released: February 9 2016
Review Source: Kathy Dawson Books
Five teens. Five futures. Two worlds. One ending.

One year from now, Dylan develops a sixth sense that allows him to glimpse another world.

Ten years from now, Brixney must get more hits on her social media feed or risk being stuck in a debtors' colony.

Thirty years from now, Epony scrubs her entire online profile from the web and goes "High Concept."

Sixty years from now, Reef struggles to survive in a city turned virtual gameboard.

And more than a hundred years from now, Quinn uncovers the alarming secret that links them all.

Five people, divided by time, will determine the fate of us all. These are stories of a world bent on destroying itself, and of the alternate world that might be its savior--unless it's too late.
---
Can you tell us a little bit about yourself and your books?
I live in San Jose, CA, a pleasantly geeky place with some lovely scenery hidden in among tech companies. I'm trying to figure out how I can become some sort of professional Clue player, because I'm obsessed with the game Clue and have sworn to play every version of it ever. Most recently I played the Dr. Who version, which is great because it gives you a perfectly good reason to say, "I'm taking the secret passageway to the moon."
My debut novel is WHERE FUTURES END, which follows five different teens living in five different future time periods. Together their stories show what happens to our world when it collides with an alternate universe.
Without giving too much away can you describe your favorite scene in the book?
A bunch of characters are trying to pull off a heist within a virtual reality video game based on an alternate universe. But someone might be secretly sabotaging the others. And there might be secrets about the alternate universe hidden inside the game.
Authors always say that they hear voices in their heads. Which character speaks the loudest?
Epony is the character from WHERE FUTURES END that lingers in my head the most. She grew up in a tiny town but spends time in LA, where she has a hard time connecting with a new barrage of pop culture. She wants to be genuine but she also wants to take part in the culture around her, and those things are at odds. I feel that way all the time—like I can't figure out how to be myself and still sing along to the same songs everyone else likes and use the same Internet slang. How do you keep your identity your own but still join in with everyone else? Epony and I both wonder.
Who was the easiest and hardest character to write?
The easiest was Brixney, a girl who's waiting tables in an obnoxious restaurant where she's always on camera, even when she's trying to hide from her boss in the walk-in freezer. I waited tables as a teen and it was like being trapped in a cannibal den while acting really jazzed to describe food items that have been given adorable names. "Can I interest you in a Mega Munchie Meal??" "We are hangry, give food now!!!" So I know how Brixney feels.
The hardest character to write was Quinn, because she lives in a post-apocalyptic setting. It's hard to know how someone who lives a VERY different life than you do will think/act/feel. Some really strange things happen to her involving technology and time-distortion, and I had to figure out how she would react to those things given her limited life experiences.
Do you think you could survive in your character's worlds?
Well, I COULD, but since the futures I've created for this book involve tons of cameras that record people's every-day lives, I would probably end slapping a lot of people who invaded my privacy. I mean… firmly telling them to respect my space.
---
Parker Peevyhouse lives with her family in the San Francisco Bay Area, where she has worked as an instructor and tutor and currently volunteers with teens. She can usually be found wandering local trails, playing board games, or watching science fiction movies. Her first novel, WHERE FUTURES END, will be published by Penguin/Dawson in early 2016.
Thanks to Penguin Teen, we are giving away a hardcover copy of Where Futures End! As this giveaway is provided by the Penguin, this is open to US only. Enter below for the chance to win!
a Rafflecopter giveaway