---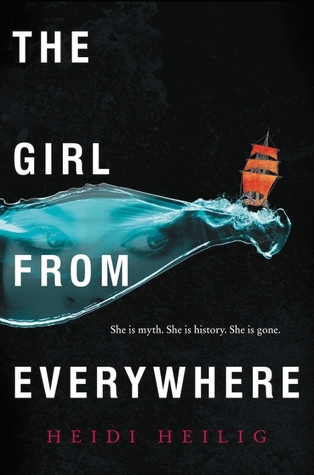 The Girl from Everywhere
The Girl from Everywhere #1
Author: Heidi Heilig
Reading Level: Young Adult
Genre: Fantasy
Released: February 16th 2016
Review Source: Greenwillow Books
The New York Times bestselling author of the Out of Line Novels takes readers to Boston, where one gang of criminals knows how being bad can be so good...

She knows what he's like on Boston's mean streets. Now she's going to find out if he's got some heart.

Lucas Donahue is not ashamed of his criminal past, but after a brief stint in prison, he's ready to go legit and live a normal life. The problem is, no one leaves the gang without permission—even if he is one of the boss's top men. Plus someone's placed a hit on him. And then there's that feisty little bartender who's going to cause him even more trouble.

Heidi Greene knows to keep her distance from a ladies' man like Lucas—even if she can't keep her eyes off him. When he rescues her from an attack in the alley outside her bar, she's forced to stay by his side for safety. But the longer she spends time with him, the greater her chances are for getting hurt in more ways than one.
Are you a Doctor Who fan? Then this story is perfect for you! It is filled with time-travel adventures with a mix of history and fantasy. How awesome is this? The book executes a great story with such mystery! Nix, our main character is wicked cool too. She is very clever and will have you laughing out loud.
Nix was born in 1868 and she travels all over the universe with her father. They have the ability to travel in his ship, The Temptation, to past and future but what's very unique about this traveling is that they are able to travel to imaginary places as well. WHAT?! Yes!! Just imagine being able to travel to the Wizardly World of Harry Potter or Nardia!! Or any of your loved books with maps! Yes, we can travel to Westeros. How amazing is this? Very EPIC! So as you can tell, all Nix and her father need is a map and they're able to time-travel. But Nix's father is only interested in one map. A map he must acquire. This map will take them to the birth of Nix in which her mother died while giving birth. He's so obsessed in acquiring this map and will do anything and everything to get it. What's crazy about this is this will erased Nix's existence. Isn't this heartbreaking?
While it was a great story, heartbreaking (which are my favorites), at times, this story dragged. A lot. The story is very descriptive, which gives you a great sense of this world, okay, worlds. Heilig did quite a fantastic job in researching to provide us such details. It felt like you were part of the crew and you are time-traveling with Nix and her father.
The Girl from Everywhere is so much fun to read. The pacing, the worlds, the adventures and the heartbreaking twist will have you turning those pages. Read it and enjoy it! I do recommend this story to lovers of history and those fans of adventures.